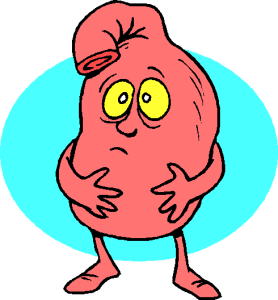 Upset Stomach Cycling? Fix it!
Painful stomach cramps and bloating can make it very difficult to continue cycling. Adjustments in nutrition, effort and position are the key to changing your enraged gut to a settled tummy.
The Stomach
The stomach is able to process approximately one gram of carbohydrate a minute or 60 an hour. If you eat more than this, it will not make the process go any faster, you will just get an upset stomach cycling.
If you mix sugars it is said that you can increase the carbohydrate intake to around 90 grams per hour. (Ie. mix glucose and fructose – I am still looking for this study)
So, per hour plan on having 45-60 grams of carbs if just from glucose and 55-75 grams if from glucose and fructose. (another reason I like honey stingers so much – glucose:fructose ratio of 1:1)
Note: Gels are approximately 23 grams of carbohydrate, energy bars are approximately 47 grams of carbohydrate and sports drinks are approximately 50 grams of carbohydrate.
Effort
At high levels of exertion most of your blood will be in your legs in order to maintain your effort… this means that your stomach is competing with your legs as your stomach needs the blood in order to digest food. Unfortunately, your stomach is going to lose the competition and it will slow digestion considerably.
As you continue to eat your belly is going to get full. Now you have three problems you:
Have not been getting enough food digested into usable fuel
Likely are starting to get dehydrated
Are starting to get full AND feel like making a mess on the pavement is inevitable. (vomiting)
I used to think that this is just the way it is in cycling. You cram power bars and gatorade down until you feel like vomiting, and then you continue to eat and drink as much as you can until the ride is over and that is how you knew you did nutrition properly. Oops.
If you start to feel this way switch to water immediately… and if you can convince yourself to slow down to about 70-75% of your aerobic capacity that would be a great idea as well. The water is to decrease the sugar content as it is too high and difficult to process. Going forward you may need a mixture of sports drink and water. Slowing down will allow the blood to return to the stomach and help to digest.
Position
Perhaps the easiest thing to quickly look at is your position. If you continually get an upset stomach cycling it could be because your position is too aggressive (leaning over too much with a rounded back, or your hips are not open) and that can put undue pressure on your abdomen making it difficult to digest food.
I have tried all of this and still have an upset stomach cycling
If you have tried this already and still are having stomach/vomiting issues then it is time to look at what you are doing off the bike. Your esophagus has muscles that help push the food down and at the bottom is a sphincter that keeps the food from coming back up!
Now some of you may not want to acknowledge this part… but… caffeine, alcohol and smoking all relax the ever important esophagus muscles and sphincter. So if you continue to have problems look to cut these items out. Also, only eat 2 hours or longer before cycling, longer is better if you have a sensitive tummy.
Catch an upset stomach cycling early!
An upset Stomach cycling can destroy a ride, but if you know the signs and catch it early enough you can fix it without it slowing you down.