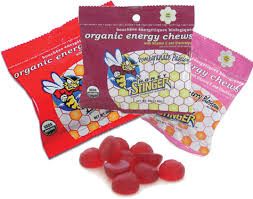 Honey Stinger Chews Description:
Honey stinger chews are small soft chews and are a healthy way to fuel your workout. Enjoy the sweet taste of honey and organic tapioca syrup. Made with USDA certified Organic ingredients. 160 calories per package Gluten-free, dairy-free, non-GMO ingredients. 0g Trans Fats and no partially hydrogenated oils.
Pro's
Does not dry out your mouth or hurt back of the throat like a lot of other nutrition
Goes down easy – Is not so dry you have to flush it down with water/sports drink
Good taste – lots of flavors listed below, tastes like candy without being too sweet
95% organic ingredients – made for the health conscious athelete
Honey used as main sweetner – Glucose to fructose ratio of 1:1 which is the same as fruit, so if fruit does not upset your stomach neither will honey stinger chews
Gluten Free, dairy free
Con's
sometimes difficult to get out of package when you are in a rush
Fixes to Con's
Pre open bag for easy access (cut the whole top off, or half)
My rating
I rate honey stinger chews a solid 10/10.
Flavors:
Cherry Blossom, Pomegranate Passion, Orange Blossom, Pink Lemonade, Fruit Smoothie, Lime Ade
Ingredients:
Organic Tapioca Syrup, Organic Evaporated Cane Juice, Organic Grape Juice Concentrate, Organic Honey, Pectin, Citric Acid, Color (Black Carrot Juice Concentrate (red)), Natural Flavor, Ascorbic Acid, Potassium Citrate, Organic Sunflower Oil, Carnauba Wax. Contains 95 % Organic ingredients.
Compare Honey Stinger Chews Prices Here:
Honey Stinger Chews Reviews Welcome
What do you think of honey stinger chews? What flavor of honey stinger chews are your favorite? Did you find the honey stinger chews review helpful? Please leave a comment below.