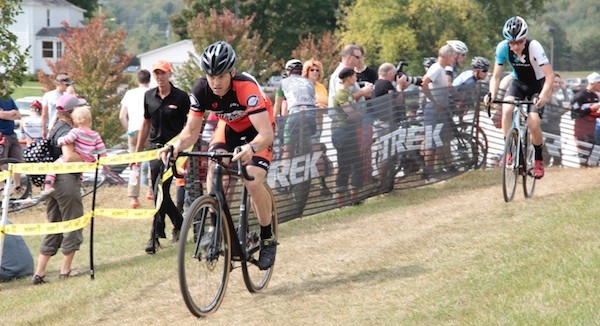 Showing up for your first cyclocross race can be daunting. Where do you register, where do you start, how do you pin your numbers, what are the "pits"? These all are some important questions that having an idea of their answers ahead of time will give you a bit more comfort and less stress going into an already crazy race. Ideally you want to arrive at the race venue two hours before the start of your race. This will give you enough time to prepare for your race without rushing as well as to enjoy the other races and make friends. If you have more time, by all means show up even earlier.
Parking
'Cross races are normally held in a park type setting that can have a regular paved parking lot but be prepared for having to park in the grass or a field. Also be prepared for mud. Don't back into a spot. You want plenty of room to be able to unload your bike as well as to change and get ready for your race. Since races a lot of the time can be muddy, a good pair of boots is a wise choice. If you know it's going to rain and you have a pop-up tent, bring it. Getting ready in the rain is a pain so avoid it if you can.
Registering
Once you're parked you should find where registration is. If it's far, get your bike ready and ride, otherwise walk to registration. Make sure you have your wallet so you don't have to make the trip twice. As you're heading to registration, scout out the lay of the land. You may have to ask around but find where the start is as well as the finish. They are never the same location. Also, you will want to see where the pits are. If you don't see them on your way to registration, ask when you get there. Once you're registered, make sure you have enough pins to pin your numbers before you head back to your car. If you didn't hit up the bathroom already, find it and make sure you know where it is to visit right before your start.
Pinning Your Number
Depending upon the race organizer, you can have one to four numbers. At registration, they will show you where to place your numbers. The main numbers on your back are fairly straight forward. Make sure the bottom of the number goes down your side and not squarely on your back. In bigger races smaller shoulder numbers will be given. These are a bit tricky to pin. Look around to see how other people have pinned theirs and follow suit.
Remember that your jersey is going to stretch so place the pins slightly closer together on the jersey so when the jersey stretches it doesn't rip. Once you're pinned, get dressed and ready to ride. Set out the water bottles and food you need for right before your race as well as what you are going to need after. If it's cold, and/or wet, make sure you have warm clothes laid out ready to put on.
Warming Up and Pre-Riding the Course.
Both warming up for 'cross as well as pre-riding the course is imperative. The race will designate times between races where the course will be open for pre-riding. Make sure you know when these are as to not miss them. Typically you will want to ride the course before the race immediately ahead of your race. Once you're on the course, don't ride it hard. You want to see it and know the good lines. If you can, follow a few riders who seem like they know what they're doing to see where they ride and how they get through different sections. See where you can go hard and where you can relax a little throughout the course.
After you have ridden a lap, which is probably all you will have time for, go back to your car and top off on food and water. Now you will want to do an actual warm up where you ride hard to get your legs ready to go full gas. If you have a trainer or rollers, they can be a great warm-up option. Otherwise go find a good stretch of road to ride. Make sure to do a few short max efforts. Also make sure you don't go too far as to miss your start time. Depending upon your set-up with a spare bike or spare wheels, place them in the pit before your warm-up. Don't wait until right before your race to try and put them in.
The Start
The start of a 'cross race is crazy as well as one of the most important elements to placing well. The start is organized into lanes that are normally marked. Riders are called by name or number into their starting spot. Being your first race, you will be one of the last called. The more you race and the better you do the better starting spot you will get.
Make sure you are in a good gear that's not too big or too small so you can clip in and get up to speed quickly without having to shift straight away. The official will give the final instructions and will then call out "thirty seconds". At any time in the following thirty seconds the official will blow their whistle indicating the start of the race. The start is super critical as this is the time where you can pass the most amount of riders in the shortest amount of time. Navigating your line through all the riders will come with practice.
Afterwards
Once you finish your race you will want to spin around for a little bit to warm-down your legs from the effort. Before you do this however, go back to your vehicle and grab something to eat and drink as well as to put on any clothes if it's cold. Then go for a short spin. After, go back to your vehicle, change, and then go check out the results and to collect any prizes as enough time should have passed that they are ready. After and during the above, drink beer, eat sausage and Belgian Waffles, and have a good time. You're at a 'cross race after all.  It's what you're supposed to do from the time you get there until you leave.