Think of the fat tire bike as the monster truck of the cycling world. You might have seen one before; a bike that looks like it has car tires. To put it mildly — they're FAT. They look ungainly, and for the most part they are. Bearing in mind that the over-the-top fat tire bike is not designed for speed or responsive handling, the fat tire bikes look really cool and they're a blast to ride in conditions that a normal bike would go nowhere with. Following a brief run-down are ten of the best fat bikes out there right now. Have another one you're a big fan of? Let us know in the comments below.
Fatties in Competition
Fatties have been around for more than a decade but have only captured the mainstream cycling world's attention over the past couple of years. It's due in part because of their versatility and the growing popularity of extreme adventure riding and racing. For example; hundreds of competitors ride fat bikes over the challenging
Arrowhead 135
course every January in Minnesota. If you're interest is peaked, there are a lot more
racing and events
out there just waiting for you and your best fat bikes.
Wide Tires
Standard mountain bikes typically have a tire width of about 2 inches. Fat bike tires are about double that — or more even. The massive tires can also be ridden at dramatically lower pressure. The width allows fat bikes to float on loose, non-solid surfaces where any other bike would just sink in and go nowhere.
Low Pressure
Mountain bike tires range from about 25–65 psi, but the gigantic fat tires can handle pressures as low as 10 psi or even less. Lower pressure allows the tire to grip the ground under the rider's weight, drastically increasing the contact area of the tire thus increasing traction even of loose surface such as snow or sand where the fat bike is at home.
All Terrain
For other conditions, such as sand or soft snow, the extra width and low pressure allows the rider to float more easily over the softer, more unstable surface. The tires react to snow-packed and icy surfaces gliding through icy corners that can send you hurtling to the ground on a standard mountain bike. As an added benefit, the squishy tires also make for a much more comfortable ride on any surface as it's a built in suspension.
The Best Fat Bikes For You
Now that you know a bit more about fat bikes here are ten of the best fat bikes for you to consider for a totally different riding experience.
Trek Farley  
The Trek Farley may just be at the top of the food chain, both in performance, looks, and price. It also accommodates one of the widest tires out there at 5 inches.
Carbon or Alloy frame
Tubeless tires
Rockshock Bluto Fork
Up to 11 speeds
With up to six different models of the Trek Farley the models range from about $1,200 to about $4,800.
Surley Ice Cream Truck
The Ice Cream Truck is near the top of the best fat bikes list primarily because it has one of the largest, most voluminous tires out there at 4.8 inches. And it's eye candy.
4130 chromoly steel tubing

Shimano SLX CS-HG81-10-speed cassette

Six frame sizes from extra small to xxLarge
Specialized Fatboy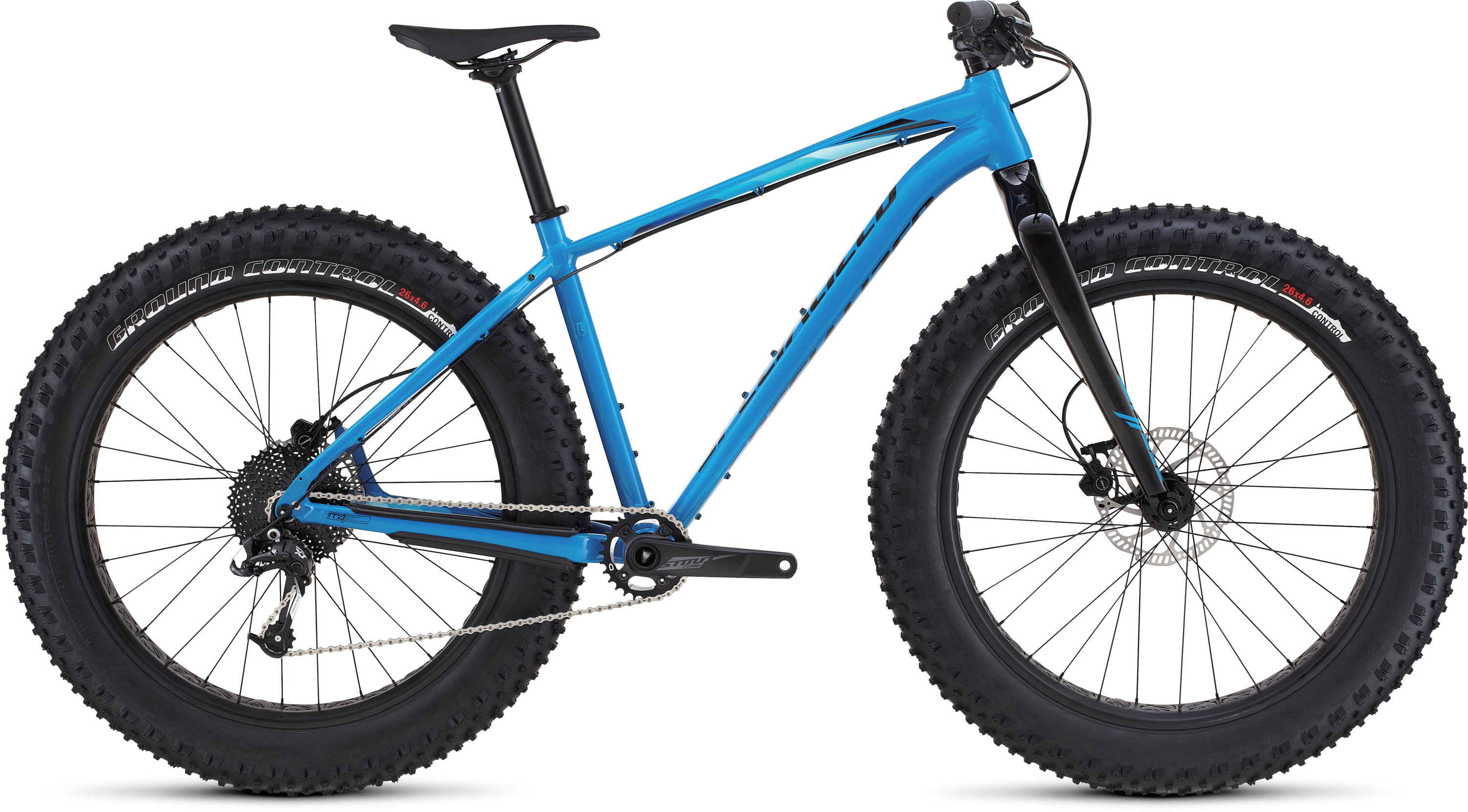 A worthy first-time fat bike, with only slightly less width at 4.6 inches.
FACT carbon fiber fork
M4 alloy frame construction
SRAM X7 Type 2.1, 10-speed

$ 1,699.00
Felt Double Double 30  
Tires getting smaller at 4 inches in width, the Double Double is at home for daily use on any surface.
Aluminum Frame
Custom hydroform fork
Shimano 10-speed
$1,999.00
The echo is performance-oriented, with clearance for 4.8 inch tires.
Full carbon frame
Fully guided internal cable routing
SRAM XG-1195 cassette
$4,750
Turner King Kahn  
The Kahn, with over five inches of travel and a massive foot print, allows a rider to stick lines only available to mountain goats and downhill pro's in the past. When traction is virtually unlimited, a rider can push through limits. You only need to know one thing: This fat bike is full-suspension since Turner only makes full suspension bikes
Cannondale Fat CAAD 1  
The bike for those who ride in every season on every surface. Fans of the "lefty" fork will recognize this unique design on the Fat CAAD.
Aluminum Frame
SRAM components
4.8-inch tires
Bike specialty — mowing things down
$3,730
Canyon Dude CF 9.0 EX  
With an innovative carbon frame weighing in at an incredible 1550 g, this is one of the lightest fatties out there. The Dude may look fat but don't let that fool you – nothing stands in its way.
SRAM drivetrain
4.0-inch tires designed for a faster ride than other fatties
Rockshock fork
$4273.13
Genesis Caribou 
Not tied-down to specific single-season use, and much more than a just 'snow bike', the trail-orientated geometry and fat tires lend themselves well to year-round use.
Chromoly steel frame
Shimano and Samox drivetrain
4-inch tires
$ 1852.42
Moonmen #MOO  
This bike is all about playing. Moonmen bikes are foremost about the joy of riding, especially when you're floating over a fluffy snow, bike packing across the desert, or taking a podium at your local race series. This bike company is so new, that reviews are for the most part, unavailable. It also has so many different options, that listing even part of them is not fair, but here are the basics:
Single Speed
Titanium
$3600 and up