Every cyclist needs a little motivation to become better. Enjoy, work hard and get out and go for a ride!
Clara Hughes (Canadian Olympic Champion)
It's that time of the year when the snow comes and goes but hasn't decided to make it's winter home just yet in the mountains I call home. Lately, that home has been Utah's Wasatch Mountains. That time of the year when it's a constant self-inflicted arm-wrestle to get the butt out the door and on the bike or in trail running shoes. I'm honored to share with the network of fellow cycling enthusiasts and soon to be riding companions on July 13th for the Granfondo Axel Merckx Okanagan what motivation is like in the mind of a former athlete like me. You see, people often comment about the level of commitment and resilience they see with Olympians. Oh, if they only knew the constant war waged in this thick skull of mine to simply keep the wheels turning. I have to admit, it was a little easier when I was training for an Olympics.
Winter or summer, on the blades or bike, there was a sense of responsibility to the ultimate goal of trying to win big races every four years. That, and the team of coaches, trainers, therapists, physiologists, psychologists, and teammates…all waiting to give you a hard time if you're late, let alone absent. Not training was simply not an option. Now that I'm a recreational athlete, it's a little different. I'm actually quite lazy at heart (Editor's note: According to Clara's Strava© profile, in the last month she has averaged 345 km on the bike per week. If only we could all be that lazy!).
I love sitting inside watching the snow fall with a coffee in hand. Why be frozen and miserable if you don't have to? Well, because I like even more the feeling of getting out…rain, snow or shine. Exhausting myself on foot, bike, ski or snowshoe, and then sitting with that coffee in hand watching the snowfall is even better. The challenge is that first step out the door. My advice? Set yourself up for something so big – like a Granfondo or a cross-Canada trip on two wheels – and scare yourself with visions of suffering, slobbering and not feeling ready or motivated. It all serves as effective fuel for my motivational fire. The pay off is feeling great not just physically but mentally, as well. There is the satisfaction of the adventure when you do get outside that money cannot buy. Dreaming, not dreading, the summer of cycling ahead is where I'm at. I get creative with what I do. I cross train…a lot. I go with the flow of the forecast and environment I'm in when choosing the mode of exercise. Which brings me to our little get-together next July. I promised Axel and Jodi I'd come and take part in this fantastic event a few years back. The timing is finally right. Can't wait for the ride!
Clara Hughes
Sign up to race with Clara Hughes in the Grandfondo Axel Merckx Okanagan here.
Granfondo Axel Merckx Okanagan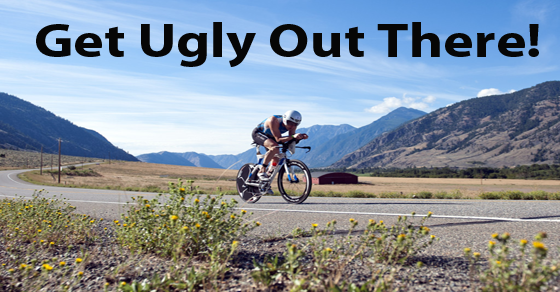 Jeff Symonds (2013 Challenge Penticton Champion)
What would you do if you knew you would not fail? Or for the triathletes in the crowd, what would you do if you knew you didn't have to run afterwards? The Granfondo Axel Merckx Okanagan (GFAMO) is a great way for triathletes to find the answer to this question. Granfondo events are a great opportunity to get out of your comfort zone and tear down any fears you might have. Whether your fears are related to how hard you can push, or whether or not you can cover the distance, the 'Fondo will have an answer for you.
Pacing is undeniably critical to triathlon success. We train and develop the ability to sustain that pace for incredible amounts of time. But sometimes it's tough to mentally and physically breakaway from that pace. The excitement of a 2000+ person Granfondo start-line will provide you with an almost euphoric surge of motivation to push new boundaries. Adding to that motivation is that in an event of this size, there isn't just one rider to chase, but an entire group. There is an almost endless supply of competitors to push you and encourage you to find a new level of performance.
When I took part in the GFAMO in 2012, I found myself pushing extremely high wattages early on. If I had seen these wattages in a triathlon I would have slowed down and conserved myself for the run. But the beauty of the 'Fondo is that there is no run. If you go too hard you don't have to suffer through a 42.2 km death march, you can simply soft-pedal back to town. Because of this I threw caution to the wind and "got ugly out there"! I rode the like a maniac and attacked off the front. After riding hard all day I got to the finish-line expecting to be fully cooked. On the contrary, I felt pretty good. In the process, I found a new level of hurt. Three weeks later I took this knowledge and confidence into the Ironman 70.3 Calgary. I used the new limits that I had found in the 'Fondo, to finish on the podium on the back of a strong bike and a solid run.
Participating in supported group riding like the 'Fondo is a great way to practice many elements of long course racing, without having to worry about the long recovery that comes with running. Pre-event jitters, pace, nutrition, hydration, equipment and mental strategies are all crucial elements to triathlon success that can be practiced in the 'Fondo.
Until next time…Ride Hard and Smile Often. And don't forget to Get Ugly Out There!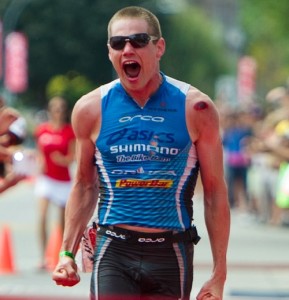 Jeff Symonds
Jeff Symonds is a Canadian professional triathlete from Penticton B.C. In 2011, Jeff broke through with a 3rd-place finish at the Ironman 70.3 World Championships. Last August, he captured the inaugural Challenge Penticton title, averaging more than 38 km/h on the 180 km bike segment. Jeff now lives and trains in Vancouver, B.C.
Article Courtesy of Granfondo Axel Merckx Okanagan
Side Note: Lee Agur (Founder of this site) will be participating in the 2014 Granfondo Axel Merckx Okanagan and will buy you a beer if you finish before him. So sign up for the 2014 Granfondo Axel Merckx Okanagan here and earn a free drink and some bragging rights. Get a hold of him through the contact page so he can keep an eye out for you.