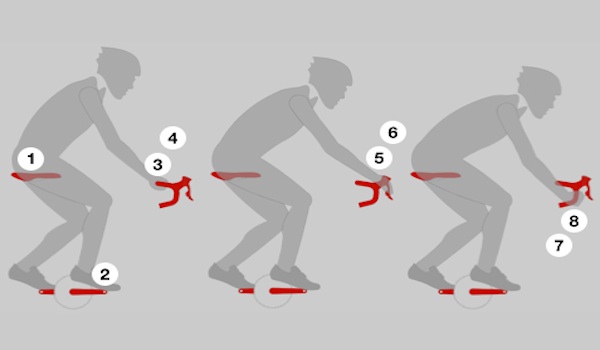 Rarely do we ride down a road that's exactly the same the entire time. The road changes surfaces, twists, turns, climbs, descends, as well as gives us traffic and dogs to look out for. Our position on the bike changes with each of these for comfort as well as functionality. Knowing which one to be in for each scenario will help you find those positions on the bike without even having to think about it.
Road Bike Riding Positions
Hand Positions
On the road bike, changing hand positions frequently will allow you to be in the position most suitable for the terrain beneath your front wheel as well as to keep your hands from becoming sore and going numb. There are four main places to put your hands on a road bike. Some are standard and easy to know, others you might not think about.
The Everything Position – The Hoods
The majority of riding will be done on the hoods, or where the shifters and brake levers are on a road bike. This gives the greatest functionality as your hands are close to the shifters to allow for quick shifting as well as the brake levers to be able to slow and stop quickly if needed. This position also allows you to easily stand up out of the saddle to go up hills or to accelerate as well as to stretch. Having your hands on the hoods also allows you to be in a semi-aerodynamic position while not being too low where there is added strain on your back.
The Drops
While the hoods are the best all-around position, the drops are where you will find the most aggressive position. The drops bring your body slightly forward and lower allowing you to be more aerodynamic. This can put more strain on the backs of your legs into your back but if you stretch properly and ease into the amount of time you spend in the drops, it can be beneficial. The drops still give you easy access to the shifters as well as even more braking capabilities because you can now pull harder on the brakes in a more neutral position. The drops also offer better stability down descents, as you have a lower center of gravity, as well as better handling down bumpy roads, as you have a more solid grip on the bars. The drops and the hoods are also the two places you want to hold on to if you are riding in a group as you have a quick reach to the brakes if needed.
The Tops
The tops are the part of the handlebar between the stem, the part holding the bars to the bike itself, and the hoods. This position can allow you to ride a bit more upright taking more pressure off your back as well as hands. This position should only be used when you are on a straight, open stretch of road, or climb, where you most definitely won't have to use the brakes quickly as your hands will be further from them. Also, never ride the tops in a group as again your hands are too far from the brake levers.
The Aero Position
A fourth position on the road bike that is often not thought about is the aero-position. This is where you simulate the use of aero-bars, bar extensions that bring you into a more aerodynamic position. To do this you place your fore-arms on the tops and drape your hands forward and together in front of the handle bars. This brings you further forward as well as lower giving you less frontal area to the wind. The key to this position is to make sure you have not only good open stretch of road where you won't need to brake suddenly but also that there are no potholes or other bumps that may throw you from the bike. This position is a lot more unstable so it must be used with caution but with a little practice it can help you go faster with the same amount of effort.
Body Position
Now that you know where to put your hands you need to make sure that your body is in a good position to utilize them. While you theoretically can be in each position for each scenario of riding, being in the right one will make your riding the most effective as well as safe.
Neutral – The Everything Position
When you're riding roads that you are generally on the hoods on, you will be in a standard position on the bike where you're seated firmly and comfortably on the saddle. This position gives you the best all-around pedaling performance as you can generate power while lasting all day. This position also allows you to have a solid third point of contact with the bike, the other two being your hands and feet, so you can react to any pot holes or bumps that you may hit as well as any sudden turns you may have to make.
Climbing
While climbing uphill can be ridden in the neutral position, and will be if you are not going too hard, at times you will want to slide forward a bit toward the nose of the saddle to get a bit more power to the pedals. Your hand position will generally be on the hoods or on the tops as it still gives the grip to pull on the bars a bit as well as to keep your lungs opened up.
At times while going uphill, particularly on the steep parts, you will want to get out of the saddle to get more power to the pedals. Climbing out of the saddle can be a bit more inefficient as the majority of riding is done seated so that is what your muscles are used to. With training and proper form however it can be used to climb faster. You don't want to be too far forward where your body is almost over the handlebars. Rather you want to be somewhere just ahead of the saddle so that the backs of your legs just brushing the nose of the saddle. In this position you will want your hands on the hoods as it gives the most stability as well as an upright position.
You don't want to over swing the bike back and forth in either direction but rather small amounts to get the most out of each pedal stroke. You want to make sure you unweight and even pull up on the upstroke of the pedaling motion. A tendency climbing is to push a lower cadence. Try, both in and out of the saddle, to keep your cadence higher, closer to your normal riding cadence. This will keep your legs from building up fatigue quickly.
Descending
Going downhill requires more than just riding with your hands in the drops for stability and braking but also a bit different body position. Going downhill you want to be positioned to absorb any road bumps as well as to smoothly take any corners. To absorb bumps, you want to be slightly out of the saddle with your legs at 3 and 9 o'clock, forward and backward, and slightly bent. You then want your butt slightly off the saddle but your legs still touching both sides of it for added stability. You will bounce between this position and actually sitting on the saddle as you go down the descent and encounter varying road conditions. As it gets bumpy, take your butt off the saddle a little. When it smooths out, sit back down. When a corner is coming up, sit back down as well as it will give you more stability through corner.
Riding with your hands in different positions on the handlebars will allow your hands to not get sore in any one spot as well as to provide a solid base for your body position depending upon the road ahead. Knowing and using both the hand positions and body positions will make your riding more efficient as well as comfortable. Use them, get comfortable with them, and then you won't even have to think about it. You'll just find the best position for the road ahead.