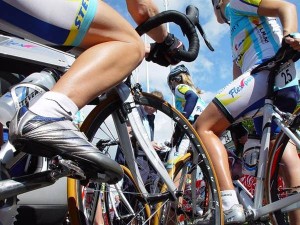 I went to a professional bike fitting and was surprised that one of the first questions that was asked was related to my cleat position:
Professional bike fitter while examining my shoes: So… why did you choose this cleat position?
My response: Because they came like that…
Embarrassing but true. I just thought the cleat should be positioned so that the ball of your foot was over the pedal axle; unfortunately, my position was a little forward of that.
What followed was a discussion of where the cleat position should actually be cycling and why. I took his advice, moved it back nearly 14mm, and found significant power and efficiency gains. Upon further reading and personal testing here is what I found.
Concept
The further forward the cleat position is, the harder your calf muscle has to work as a stabilizer muscle. The energy the calf is using does not actually go into driving the bike forward but rather is used to stabilize the foot and the ankle. However, with a forward cleat position cycling you are able to attain a higher peak torque.
The goal is to find the cleat position that gives you the torque you require without unnecessary calf fatigue.
Where to position the cleat?
Steve Hogg, a world-renowned expert on bike fitting, recommends the following cleat positions:
Shoe size 36 – 38: Center of ball of foot 7- 9 mm in front of the centre of the pedal axel
Shoe size 39 – 41: 8-10 mm in front
Shoe size 42 – 43: 9 – 11 mm in front
Shoe size 44 – 45: 10 – 12 mm in front
Shoe size 46 – 47: 11 – 14 mm in front
Shoe size 48 – 50: 12 – 16 mm in front
Before adjusting anything you should consider the fact that the type of cycling you do should dictate your cleat position.
Sprinter
If endurance is not a factor, say for instance you are a sprinter on a track, then ignore this post, as you will not care about calf fatigue and you require high torque.
Road Rider/Mountain Biker
I assume many of you fall into this category and the suggested cleat positions above are likely going to serve you well. If you are more focused on endurance then move the cleat to the high end of the spectrum (further back) i.e. century rides and road races. However, if you are more focused on sprinting move it to low end of the spectrum (further forward) ie. crit races and cyclocross.
Time Trials/Ultra Distance Biker
Steve Hogg and other big names such as Joe Friel (The author of The Cyclist's Training Bible and many other great training books) have gone so far as to say that midfoot cleat position is optimal for individuals purely focused on endurance. Individuals focused on time trials and ultra distance would be the beneficiaries of this advice.
I have not personally tested this out but I must say I am curious. To me it makes sense, as I always found my calves cramping up, but you have to decide what is right for you.
Moving Your Cleat Position
If you do happen to move your cleat position back remember to lower your seat and your bars. Also, if you are thinking of switching your cleat position then read this more detailed article by Steve Hogg.
One thing to watch out for if you change to midfoot is your foot striking the wheel on a slow sharp U turn because your foot overhangs so much.
Make a conscious informed decision about the bike cleat position because it does make a difference!