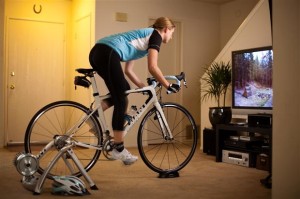 How I Beat the Indoor Trainer!
Watching the Lord of the Rings trilogy for the 10th time is fun and all, but you have to switch it up on an indoor trainer to keep it fresh and "exciting".
The Commercial Break Game
It is simple and free, every time a commercial break comes on… you sprint! Commercials last about 2 to 3 minutes so plan an effort that you can sustain for that period of time. I generally watch 1 or 2 shows while playing. This will build strength and ability up short climbs. You can also play this in reverse! Hard efforts during your show and easy efforts during the commercials. If you play this way you may even learn to love commercials.
Intensity
I mix in as many intervals as I possibly can so I do not have to be on the indoor trainer more than an hour. Lots of 2-5 minute max efforts. (All out sprint 15 second sprints don't work well on a trainer)
Test Yourself
Every few weeks I test myself with a 10 minute warm up, 20 minute max sustainable effort, 5 minute easy, 20 minute max sustainable effort, 5 minute cool down. I have a power meter on my bike so I can see if I can hold a certain power for each 20 minute segment; however, if you put a cycling computer on (non GPS) you can see what speed you can hold or how far you can go in each 20 minute segment. Remember to set up your indoor bike trainer the same way every time and inflate tires to similar pressure.
Secret weapons
Ok… so I mentioned what I do at the start of the winter season above, but when I start getting bored of that I turn to cycling videos. There are so many out there, a few I recommend are Charmichael Training Systems indoor trainer workout, ERock Rocks! Indoor trainer workout, and I have heard great things about sufferfest videos (my next purchase). Ask friends which cycling videos worked for them and why or read reviews on different videos before purchasing. Everyone is looking for something different.
Outdoors
Truthfully, I can't survive the whole winter indoor training, I get on my mountain bike and bike to the ski hill.
Subscription
If you liked this post subscribe to my newsletter at the bottom of the page to receive more like it!