Core Exercises to Eliminate Back Pain
If you've ever experienced back pain you know how insufferable it may seem especially when you're trying to stay fit through a non-weight bearing exercise like cycling. First, make sure you visit your local bike shop and rule out an improper bike fit. In addition, if you're feeling any numbness/tingling radiating down your leg, visit an Orthopedist to ensure you do not have a herniated or bulging disk. Once these causes have been eliminated, then the problem could be due to a weak core. Perhaps you're asking yourself what exactly is considered the core? The core is a group of muscles that includes the erector spinae, paraspinals, rectus abdominus, internal and external obliques, and the gluteus maximus acts as an accessory muscle. When the core is weak and required to perform exercise which it is not prepared for, it can react by creating muscle spasms. If the erector spinae muscles or paraspinals begin to spasm, the pain can become a nightmare. However, here are some beginner exercises you can perform to strengthen your core and prepare yourself for pain-free cycling. It is ideal to perform these three times a week, with a day of rest in between.
Planks:
Planks are great to strengthen not only your back muscles, but also your abdominals. Make sure when performing planks you aren't lifting your butt in the air in order to compensate for weakness. The whole body should be in a straight line, with your head looking up. You will need a timer for this exercise. You can start with 20 seconds and as you become stronger, increase in increments of 10 seconds. Before you know it, you will be able to hold this position for a 1 minute or more! Perform 3 sets of planks.
Side Planks:
Side planks should be performed bilaterally and if possible with a partner. Your partner can assist you with verbal cues to ensure you are executing the proper form. However, if you cannot complete these with a partner, start out doing these in front of a mirror so you can fix your position throughout. It is important to keep your whole body in a straight line. Some common mistakes include sticking out the butt or leaning forward with the shoulders to compensate for weakness, and make the exercise easier. You can start with 20 seconds and increase in increments of 10 seconds as you become stronger. It is not uncommon for one side to be stronger than another. Typically, we have a dominant side in our body. This exercise helps with working on each side individually, without compensation from the stronger side. Perform 3 sets, bilaterally.
Basic Glute Bridges:
Since the Gluteus Maximus is an accessory muscle to the core it is important we strengthen it as well, to avoid any compensation patterns along our kinetic chain, which could lead to injury. In this exercise you will lie on your back, have your hands at your side, dig your heels into the ground , and squeeze your Glute muscles (butt) as you pop up; hold the position for about 5 seconds before you come down and perform the next repetition. Make sure your hips do not touch the floor as you come down. Complete 3 sets of 15 repetitions.
As this method becomes easier you can maintain this same position, but now instead of having both heels on the ground, raise one leg up, fully extended. The most advanced form of this exercise can be found in 7 Exercises to Cure and Treat IT Band Syndrome.


Quadruped Arm and Leg Raise:
This exercise helps you improve balance (aka stabilization) as you strengthen your spinal muscles simultaneously. Make sure you tighten your Glute and Abdominal muscles as you perform this to maintain balance. This is another exercise that would be helpful if performed with a partner. However, if this isn't possible then one tip I've found to be helpful is to place a small stick on my lower back, to serve as feedback. I know I'm in a parallel position if the stick does not fall off; but, when it does it may mean my hips are rotating, or my back is not in a straight line.
You will be in a facedown position on the floor, on all fours. Then, lift the left arm, fully extended out in front of you and extend the right leg at the same time. Hold this position for about 5 seconds before doing the next repetition. Repeat the same motion by lifting the right arm and left leg. Repeat 3 sets of 10, bilaterally.

Hip Rotation:
When performing hip rotation, it aids with strengthening your oblique muscles. You will need a large, medicine ball for this exercise. Lie face up on the floor with your legs on the medicine ball and arms at your side. Then, roll side to side as far as you can without falling off. Make sure as you complete this exercise your shoulders are on the floor and you aren't arching your back. It also helps if you tighten your abdominals as you rotate side to side. Perform 3 sets of 10 repetitions.


Ball Lift:
The ball lift helps with strengthening your lower abdominal muscles. You must lie on the floor, face up, place the large medicine ball between your lower legs, and place the legs in a 90 degree position. Then, at this height, extend and flex the legs. Make sure your shoulders and back remain flat on the floor in order to maintain proper technique. Once this becomes too easy you can progress, by maintaining the ball between your legs, fully extended, raising your legs, and lowering them all the way down before touching the floor. Perform 3 sets of 10 repetitions.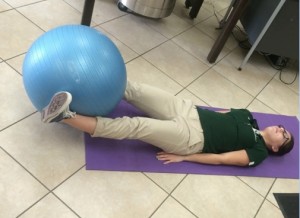 Although these exercises may prove to be difficult initially, they will help you obtain a strong core, which in turn will decrease your pain and risk of injury. These six exercises should be an integral part of your cycling regime.
What core exercises do you do to eliminate back pain?