What is a Cycling Power Meter?
Cycling power meters have been a common tool used to gauge training amongst professional cyclists for years, but really only within the last decade have they become affordable for the everyday cycling enthusiast. So what exactly is a power meter? Cycling power meters are strain gauges that measure the amount of displacement of an object, say your crank, which is imputed into an equation that gives you the amount  of work done which when combined with time gives you power measured in joules/second or watts. This work energy expressed in watts determines how much power a rider produces at any given second within a ride.
Why are Power Meters Good to Ride With?
The benefit of training with a power meter is that it can show how much power the rider is putting down to help track progress. It is a better measurement than heart rate to track training. Heart rate fluctuates a lot, whereas power is always consistent, but they are really best used together. Cycling power meters can help you also ride a much smoother pace throughout an entire ride, climb, or interval. You can pick a number and stick to it, whereas heart rate will creep up throughout the ride, hill, or interval. Cycling power meters are such a great training tool; soon you can expect to see them coming standard on bikes straight from the manufacture. Below is a list of 5 of the best cycling power meters and what makes them different.
5 of the Best Cycling Power Meters
PowerTap is one of the only companies that offer three positions for power to be read. Originally, PowerTap sold the rear hub power meter and now they offer chainrings and pedals to read power. All three are useful in their own way. The rear wheel is great because you can transfer it from bike to bike easily, but when race day comes, the race wheels replace the power meter.
SRM cycling power meters are certainly the most common amongst top professionals. The SRM is crank based and has its own head unit compared to most other brands that rely on Garmin head units. SRM claims to have a margin of error of less than 1%. SRM is the original power mete and focus on quality; the price is certainly reflective of that.
Stages cycling power meters are in the left crank arm, and dependent on what drivetrain a rider is using. For instance, if a rider uses Shimano Ultegra and purchases a Stages, they would receive an Ultegra left crank arm to replace their original one. The only difference is that there would be a small black piece attached to the inside of the crank arm. Stages is certainly one of the more affordable power meters out there, and installation and setup is a breeze.
Pioneer power meters are crank based and have dual strain gauges to measure both left and ride side power. Pioneer offers complete cranksets and installation kits for user supplied cranks, i.e. you already have a DURA-ACE crankset and don't want to buy another.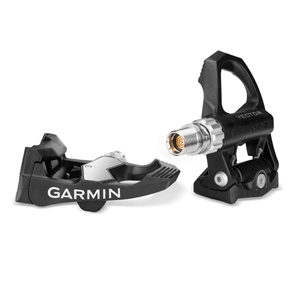 Garmin Vector pedal pods fit on your crank, taking only 15 minutes to install and calibrate. The pods do left/right pedal analysis, along with a feature called Pedal smoothness, to see where there are soft spots in your pedal stroke. These pedals are run on a simple CR 2032 battery, and the new Vector 2 design makes replacing the batteries much easier.