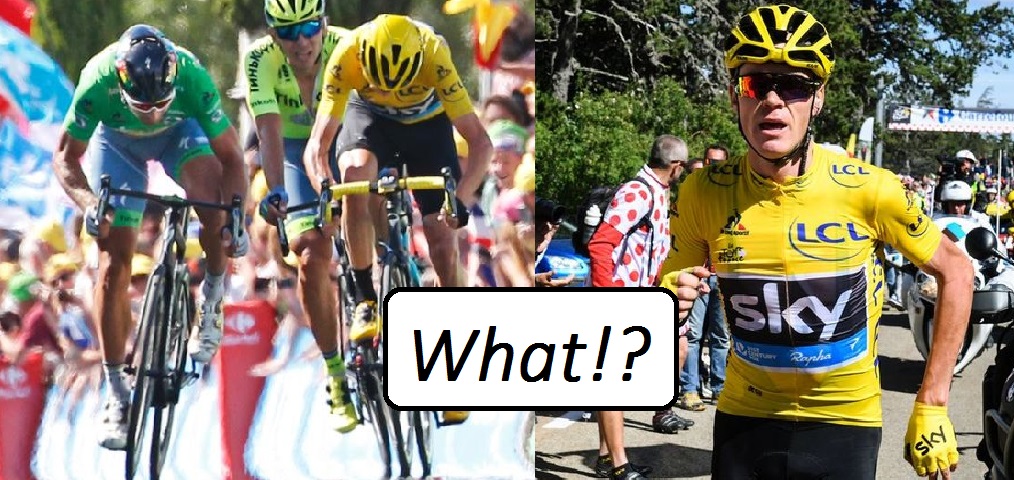 Tour De France leader, Chris Froome with Team Sky, has not had the largest fan club in the past especially for the caliber of rider that he is, but the club is certainly growing at this year's TDF. Spectators and fans have complained that Chris Froome's Team Sky tactics are boring to watch and that they lack pizzazz and emotion like the good ol' days, but on the contrary they are successful. This Tour de France, Chris Froome has broken the Sky mold on several occasions and has flipped his rivals upside down.
Chris Froome's Upbringing
As a child Chris Froome was not destined to become a two-time winner of the TDF, like other European racers. Lots of European professional cyclists have long histories with cycling running deep in their family heritage; not Chris Froome. He did not grow up being told great tales of cyclists or see big professional races in Europe. Froome grew up in Kenya and South Africa with lions and sort of stumbled into cycling at age 14. He took quickly to the sport but didn't turn professional until 22. This is quite an untraditional path and somewhat explains his unconventional way of doing things.
South Africa Training Camp
One reason Chris Froome is the raddest wearer of the yellow jersey is that Froome returned to his roots in South Africa at the beginning of the season, with American Ian Boswell, to began preparing specifically for the TDF. South Africa is not the typical place professional cyclists go to train, but it does provide all the key components a top rider needs such as warm weather, long climbs, and altitude. South Africa provided an unusual training experience for the two with the exotic wildlife and very different way of life than in Europe. Froome returning to his home continent of Africa to prepare and not heading to popular training camp destinations such as Mallorca or Tenerife certainly differentiates Chris Froome from his competitors.
Downhill Attack
Early in the Tour,  Nario Quintana held off attacks from Team Sky and looked to be in a good position for the day as they crested the final climb, but Chris Froome had other plans. Froome attacked on the descent of the Peyresourde while Quintana and Valverde chased. Froome held off the chasers and managed to put 13 seconds on them and moved into the yellow jersey. No one ever expected Froome to attack on this descent, not standard Team Sky tactics. This move flipped Froome's skeptics and was quite clever catching his opponents off guard and propelling himself into yellow. Froome gained a lot of recognition from his critics and made the race exciting to watch.
Breakaway with Peter Sagan
Stage 11 was expected to be a day for the sprinters, but Chris Froome and Peter Sagan had different plans. Sagan went on the late attack roughly ten kilometers from the finish… and Froome followed. Along with Sagan's teammate Maciej Bodnar and Froome's teammate Geraint Thomas, the two teams dropped the hammer in the final few kilometers. Sagan planned to give the win to Bodnar but realized Froome was going to sprint for the stage win, as well as gain valuable time on Froome's GC rivals. Sagan was forced to sprint obviously beating Froome, but it is not very common to see the yellow jersey and the green jersey sprinting against each other for the finish. That day Froome gained an additional twelve seconds on GC rivals and raced his bike with instinct, not a well thought out and executed plan. Sky tactics are normally simple; set a blistering pace on the climbs to discourage attacks. On this stage Froome followed his gut. Jumping in a break caught everyone by surprise and publicized that he can race his bike and is at the Tour to race, not just ride uphill faster than everyone else.
The Froome Run
One of the most popular memes in cycling right now must be Chris Froome running up Mont Ventoux with his bike. Fans crowded the famous climb and caused a race motorcycle to stop with Richie Porte, Bauke Mollema, and Chris Froome close behind causing them to crash into the motorcycle. With Froome's support car a long way back he took to foot and began to run the final kilometer to limit his losses. What was a funny moment for spectators was a moment of fear and panic for Froome. This was an admirable move by Froome to keep his yellow jersey, and a display of how desperately he wants to win. Riders in the past in similar situations have thrown bikes or would have just accepted the time loss, but not Froome. He was willing to run for every second of time to stay in yellow. Ultimately the ASO gave Froome and Porte the same finishing time as Mollema because of the strange circumstances but Froome had already gained the respect from fans.
Changing Views of Chris Froome
Jumping in the break with world champion Peter Sagan, running up Mont Ventoux, and attacking the descents turned many follower's heads during this years Tour de France. This style of racing is interesting to watch for spectators and rewrites the script for normal TDF stage racing. Sagan has such a large following because of his personality and how he races with passion and instinct. Chris Froome has seemed to channel the same type of passion and instinct at this year's Tour is becoming increasingly more desirable to cheer for. Chris Froome probably won't continue his running career but hopefully will continue racing with the same fire and aggression we have seen thus far.