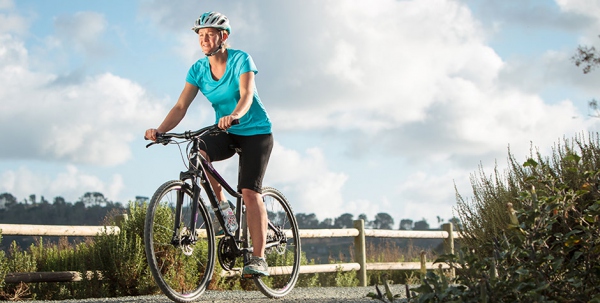 It seems that hybrid machines are everywhere. If you're new to cycling, you may have heard the term "hybrid", associated with bicycles. But what is a hybrid bike? Is it better than a road or mountain bike? Something to try out for fun? Is it one you might want to add to your growing collection of bikes? It might be.
The All-Purpose Bike
Bike-shop owners face this problem on a daily basis; someone wanders in without a clue as to what type of bike they are looking for. The answer depends on what kind of biking you do — long-distance, trail riding, road riding, cruising or all of them put together. Generally speaking, a hybrid is an all-purpose bike that can do a little bit of everything.
What is a Hybrid Bike
A hybrid bike is a blend of a standard road bike and a mountain bike, taking the bits of both types to create a machine that can adapt to different terrains and surfaces. The hybrid is a casual approach to almost any terrain.
Geometry of a Hybrid Bike
Unlike road bikes with aggressive, strict geometry made for speed, lightness, and aerodynamics, hybrid bikes have a more relaxed design. A hybrid is designed to relieve stress on your shoulders and neck with a more upright position. This means a shorter top tube with a taller head tube to give a more upright riding posture. Some hybrids also feature a top tube that slopes downward from front to rear, which makes it easier to get on and off, no matter what kind of gear you're wearing.
Handlebar and Shifters
Road bikes have drop bars that make you reach relatively far forward. Hybrid bikes have flat handlebars similar to mountain bikes. This type of handlebar adds to the upright riding position. It also means that hybrids are equipped with mountain-bike style shifters and brake levers, which are easier reach and operate.
Wheel Size
Hybrid bikes often give you a choice in wheel size. Larger 700c size wheels found on road bikes give the hybrid more of a road bike feel. Traditional 26-inch mountain bike wheels offer a lower center of gravity that might be more appropriate for a mountain bike trail. But both sizes can adapt to both disciplines, due in part to the differences in tires.
Tread Design
Hybrid tires are designed with a rough tread on the outside, and a smooth parallel tread on the inside to deal with varying terrain while offering lower rolling resistance.
Tire Width
The
most common
width for road bike tires is 23mm. A much wider tire between 2.0 to 2.5-inches is typically used for mountain biking, Hybrid bike tires are somewhere in the middle. Hybird tire width typically runs between 28mm on the narrow side, to the much wider 47mm– which is just under 2-inches. Generally speaking, the wider the tire, the cushier the ride. Narrower tires give you less rolling resistance. Wider tires allow for better handling in gravel or dirt and lessen the likelihood of
getting a flat
. The main disadvantage to wider tires is weight, which most hybrids are not overly concerned about.
Suspension Options
Unlike road bikes, which now almost all come with a carbon fork, the hybrid bike offers choices. Go with a carbon fork for more road applications. Go with a steel or aluminum fork like the rest of the frame for more traditional all-purpose riding. Suspension forks are available if you plan on using the hybrid off-road. The choice is yours.
Gearing Options
Hybrids don't follow strict guidelines for gearing options. If you primarily want your hybrid for road riding, select a gearing option like a road bike with higher gears in back. If you plan on using your hybrid for gravel paths or the occasional hill climb on dirt, look for lower gearing. If you plan on touring with a heavy pack or panniers low gearing is also a big plus. Hybrid bikes are available with a triple chainring up front for some seriously easy gears for climbing hills, or a compact double like traditional road bikes. Most often, the gearing tends to lean more toward a mountain-bike set-up.
Who Can Benefit From a Hybrid
Aches and pains commonly associated with road bikes can go away on a hybrid. Common complaints such as neck, shoulder, and backache can benefit from the upright position on a hybrid. This makes hybrids a good choice for seniors, those who might have injuries, or other health related issues.
Summing up the Hybrid
Here's a quick summation to "What is a hybrid bike?" and the benefits of one:
A hybrid can go off and on road, expanding your choice of weekend riding and commuting routes.
A hybrid can have a selection of fairly wide tires, which aids comfort and allows for various levels of off-road riding.
A hybrid's horizontal bars provide a more upright riding posture.
Hybrids typically have gears more similar to a mountain bike, so riding hills shouldn't be a struggle.
A Hybrid's shifters and brake levers on horizontal bars are easy to reach.
Most standard hybrids are fitted for racks and mudguards, making it a popular choice for commuters.
Hybrids package quality and a variety of features at an affordable price. For a cyclist who rides slightly rough trails, flat city roads, bike paths, and the occasional sidewalk, the hybrid meets most purposes halfway.
New to Cycling
If you're new to cycling, and not sure exactly what you want from a bike, a hybrid can help you decide. For the most part they are affordable options to full-on mountain or road bikes and they give you the option of trying out both disciplines. After you've ridden for a few months, you'll likely know what you like, and then you can target your next bike purchase accordingly.