Maybe the economic crisis cooled off the appetite for conspicuous consumption for a few years, but bling is back in a big way. Custom finishes, exotic alloys and cutting edge technology are combining to create some awe-inspiring machines with equally jaw-dropping prices. Here's a countdown of the World's 5 most expensive bikes.
5. Tall Boy
Before we look at glitzy Hollywood bling bikes, bicycles as art and the heady world of custom road and track cycles, let's take a look at mountain bikes. The Santa Cruz Bicycle's Tall Boy 2 Carbon XX1 is arguably the best production mountain bike available, and at $9,153 one of the most expensive. At a shade over 10.5 kg it is also surprisingly light for a rugged piece of pedal power to knock around in the dirt. As with all high-end bikes, you have the option of having it built out with a vast array of components but the complete bike comes with Maxxis CrossMark tires, SRAM XX1 drive train and Shimano XTR brakes.
4. 20th Century Icon
For antique bicycle lovers, the rare Tiffany & Company silver mounted ladies bicycle is a beautiful example of some of the exotic objects d'art that this renowned jeweler created during the 1800s. Built around 1890, this bicycle features carved ivory handles and a Brooks leather saddle. Only a handful of these bicycles were ever produced. The last example that became publicly available was auctioned by Bonham's Auction House of New York in 2008 for $70,000.
3. Great Concept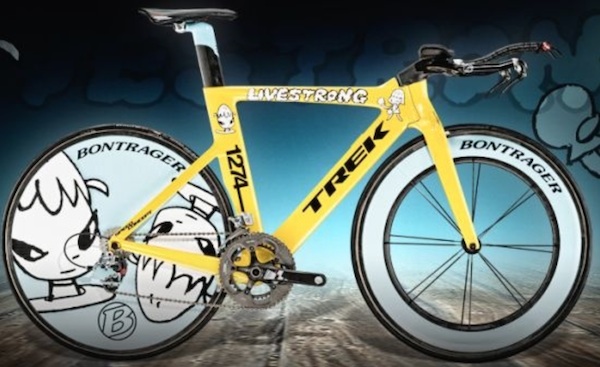 The Trek Yoshitomo Nara Speed Concept bike was developed by Trek and decorated by renowned Japanese pop artist, Yoshitomo Nara. Nara was one of 20 artists that were invited to create bikes for a special Sotheby's auction held on November 1, 2009 to support Lance Armstrong's Live Strong foundation. Combining, what is considered by many, the fastest time trial bike in the World with Nara's original artwork, the bike drew a winning bid of $200,000. In total, the auction raised 1.25 million for the foundation.
2. The Butterfly
Long before Lance Armstrong became the poster boy for doping in professional cycling he was generating cries of outrage from other concerned citizens. On the final day of the 2009 Tour de France he rode his custom finished Trek Madone, named the Butterfly, along the Champs-Élysées. The bike had been adorned by controversial British artist, Damien Hurst with hundreds of actual butterfly wings. People for the Ethical Treatment of Animals (PETA) called it "barbaric". The bike fetched $500,000 at the 2009 auction to benefit Armstrong's Live Strong foundation, becoming the most expensive in the World.
1. Extremely Fat
Forget carbon fiber vs titanium, how about solid gold? While it won't put you in front of the peloton, at $1,000,000 The House of Solid Gold's 25K Extreme Fat Bike will be sure to turn some heads. Topping a long list of blinged out bikes, THSG's bike uses a list of quality parts from makers like Salsa, AMC, Shimano and 3.8 inch wide Surly tires. Each metal component is electroplated with solid gold. It sports a chocolate brown alligator saddle and one of a kind gator skin wrapped water bottle. So as to leave no doubt that this bike is nothing less than the ultimate pedal powered status symbol, the maker's logo is encrusted with 6 carats of black diamonds. With a production limit of 13, each bike is custom made to the owner's specifications and engraved with artist's signature.
Think you've got a better one? We'd love to hear it. If you've come across a bike that would make the list, leave us a comment.