If you're a dedicated road cyclist branching out into some mountain biking, you may choose to go directly to clipless mountain bike pedals. Although there are plenty of advantages to riding with the clipless system, starting out on flat mountain bike pedals will help build your technical foundation. Riding on flat pedals keeps you from cheating, and will teach you to move your body and your bike efficiently. It may be frightening to take a break from obsessive wattage and tracking and instead work on some basic skills, but it's worth it in the long run!
The Balancing Act
When you're first starting out, it's common to balance by shifting your weight too far back. Although this is great to keep you from going over the handlebars, it can make it difficult to maneuver. Riding flat pedals encourages you to shift the weight by dropping your heels, keeping the bike steady and giving you a great platform to stand on.
While being clipped in can be great for forcing you to stay on your bike on technical trails, it can also be intimating when you're first starting out. Flat pedals give you the peace of mind and confidence to tackle some tough trails knowing that you can easily drop a foot and aren't at risk of the slow tip-over.
The Best Flat Mountain Bike Pedals
Spank Oozy Trail Platform Pedals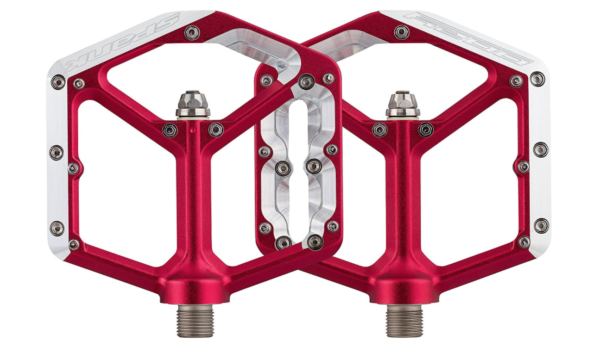 Price: $119
Extremely lightweight, the Spank Oozy Trail Platform Pedals have more than just great looks and a fun name. At just 12mm thin, they offer incredible ground clearance when pedaling in rough terrain. This exceptional thinness also improves stability and pedaling efficiency by bringing your foot almost flush with the pedal axle, drastically reducing dreaded "pedal flip." Available in four colours, they all have the chamfered edges to keep the pedals from getting that trached look that most colored pedals get after a couple rides.  
Crank Brother's 50/50
Price: $54
The CrankBrother 5050 their classic platform pedal for adventures of any type. Ten adjustable pins per side deliver a degree of grip and customization sure to keep your feet exactly where you want them. The medium-sized platform and thin profile that make them all-around performers, and the huge openings keep the mud-compacting to a minimum.
Race Face Aeffect Bike Pedal
Price: $100
The Race Face AEffect Pedals are strong, light and offer the best of both looks and performance. The chromyl axle and bottom loading hex traction pins can take a beating, making them perfect for trail and downhill riders alike.
Shimano PD-MX80 Saint Pedals
Price: $65
Developed and dedicated to downhill riding, the Shimano Saint MX80 have a unique shape and concave platform for better control and efficiency. The previous MX30s were popular for their durable, smooth rotating axle, and the MX80 carry this over with some added features. They are now slightly wider and lower, allowing for responsive levels of acceleration and deceleration.
Fyxation Gates Slim Platform Pedal
Price: $29
If you're looking for an entry level flat pedal, then the Fyxation Gates Pedal is a great option. Designed as a BMX pedal, it is made of durable nylon and will work on the trails with ease. Thin bodied with loose ball bearings they can work great for casual mountain bikers and urban riders.