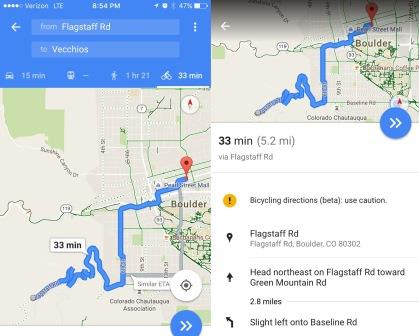 Who says you have to use Google Maps only for driving directions? If you love gadgets and apps, and are looking for an easy way to plan and map out your next ride, try using Google Maps Cycling Directions.  It's not exactly new as it's been out for a while, but newer updates have many features that cyclists might find useful.
Google's Expanding Features
Google should be given credit for investing significant resources over the years in bicycle travel and public transportation in general. Green highlighted trails, bike lanes and bicycle-friendly roads make the maps easy to use and to find routes for cycling. You can create a custom route with detailed, turn by turn directions, mileage and estimated travel times using drop and drag get the route you want. They even have an elevation feature that can tell you how hilly or flat a particular route is.
Locations of Google Maps Cycling Directions
The US and Canada have had Google cycling maps directions since 2010 and recently they added the function in the UK and Europe. But it's been a bit of trial and error. To find a route, you had to switch between the walking and driving modes, often relying on your own knowledge of cycle paths, shortcuts, highways and generally use a common sense approach to get to where you're going.
One reason it took so long to get accurate calculations for bike routes is because they can vary so much. In Googles defense for trying to get a handle on all this, they have spent years compiling data about bike lanes, paths, rails-to-trails, and determining bike-friendly street routes to offer its cycling directions map service everywhere. Google has done a good job of that to get the best and safest bike routes on their bike-specific maps.
Average Times
Google Maps cycling directions will also predict your ETA. Most fit cyclists will typically find that the travel times are conservatively on the slow side. For example, a hilly 30-mile route may be projected to take three hours at an average speed of about 10 miles per hour. That's fine for mountain bikes, but a fit cyclist on a road bike is more likely to do the same route at an average speed of 14 to 16 miles per hour.
At best, you will likely find the estimated times too slow. Basic division says that Google is calculating basic speed at about 12 mph on flat ground to come up with those numbers.
Routes
The directions should avoid the busiest routes which include divided and interstate highways that do not allow bikes. Overall, the Google Maps cycling option most likely provides the best solution in a challenging situation to get from point A to B particularly when you don't know the area. To avoid any inconvenient obstacles on your route, zoom in and look at the details of where your route is taking you. If it's going a way you don't wish to go, there may be a few different alternative routes that come up in gray when your route is first presented to you. You can also select the small dots along your route and drag it to your desired roads or trails. One note on this is that you can only drag your route on a desktop. It's not a feature on the mobile version of Google Maps.
Viewing All of the Bike Friendly Routes
Besides turn-by-turn routing, Google also offers you the option of checking out all of the bike-friendly routes in your selected region or chosen destination simply by select the "bicycling" layer from the "more" menu in the map. You can then see bike trails and lanes in light and dark green, some that you might not have even been aware of.
Some Exceptions and Things to Look Out For
You've all encountered your onboard GPS directing you to drive into the nearest river or off a cliff. Bear in mind that Google Maps cylcling directions may also not be completely accurate, so use caution. And even though you're less likely to get into an accident with cycling as opposed to driving, there are certain things to look for and question.
Roads that are named wrong.
Time estimate being way off.
The Two Best Ways to Utilize Google Maps Cycling Directions
The first more obvious way to use the Google Maps cycling feature is to look at the bike paths, lanes, and routes in the area you're looking to ride for the best way to get from point A to point B. You can then make a mental note or write down the directions but an even better solution is to plug the destination/s in to your phone.
Navigating form the Voice in Your Ear
Once you have your desired route, click the arrow to begin navigating when you have the route you want and plug you earbuds in to your phone. String the cable out of your jersey pocket from your phone and route it up the back of your jersey and over your shoulder with enough extra to make sure it reaches your ear and when you turn your head the ear bud doesn't fall out. If you're wearing bib-shorts, you can wrap it once around the suspender on your shoulder to hold it in place. One note with this is to only ever wear ONE ear bud so you can still hear traffic and any other dangers around you. Google Maps will tell you when a turn is coming up and when to turn making it about as easy as it can get to navigate anywhere on a bike. A sweet feature also is that as long as your route is loaded and you ride out of cell service, it will still continue to navigate and tell you where to go.
Google Maps cycling directions and features are a great tool to use for finding routes and navigating. It tends to be pretty accurate as a whole but it does have its bugs so double check your route to make sure you're on a good route. Let us know how Google Maps cycling directions help your riding and pass the info along to your buddies if they don't yet know of Googles handy features.