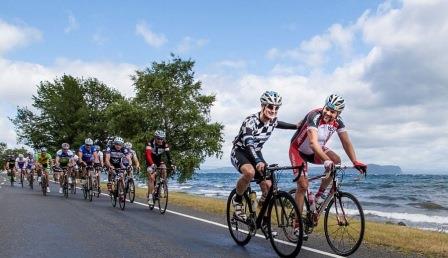 Road cycling has a long history of rules, originating from a long history of cycling. Almost every unwritten rule is governed by tradition and a regard for safety and consideration of other cyclists and vehicles. Most of the golden rules of road cycling have evolved out of necessity while some of them are tradition for tradition's sake. There are no cycling law policemen and you won't be in trouble for not following the rules but you will be safer, make more friends, and have more fun by following the golden rules.
Rule #1 of The Golden Rules of Road Cycling: Ride How You Want
Road biking is not always competition. You don't have to be faster than other cyclists and there will always be faster cyclists. Ride how you want to ride. If you want to get faster there are a set of golden rules specific to training rides. Set your own pace, especially if you're new to it, until you get some miles in your legs, lungs, and heart. Self-confidence doesn't build overnight. One day you'll look back and realize how far you've come.
Rule #2: Build Endurance
Serious road cycling requires endurance. Get accustomed to getting out on your bike regularly. Build it into your way of life. Road cycling requires a routine just like getting up in the morning, going to work and eating dinner. Prioritize it.
Rule Three: Change it Up
Don't ride the same route every time you go out. A huge part of cycling can exploring new roads and places.  Vary your rides, even if it takes you on hills you'd rather avoid. Include a variety of routes that are easy when you're not up to it, and harder, longer rides when you have the time and mind-set.
Rule #3: Be Courteous
Courtesy is a key component for staying safe on the road and acting respectfully towards others who share the road with you. Respecting the golden rules of the road makes motorists and fellow-cyclists reciprocate, and they respect you in return. Motorists and cyclists have a tenuous relationship at best, so sharing the road with respect and courtesy eases tension.
 Rule #4: Believe in Yourself
Keep at it when you're out there all by yourself, and the road seems never-ending. Believe in yourself. There will be times when you doubt your abilities and goals. Don't give up on them. All cyclists have have bad days on the bike. Don't let them affect you or your motivation.
Rule #5: Sick Days
Don't ride when you're sick. It's one thing to get out there when you're tired; it almost always makes you feel better. But don't try to ride off the common cold or fever, it might make it worse. Take care of yourself. Rest and ride another day.
Rule #6: Obey the Law
Road bikes are subject to the same laws as motorists, follow them. You have the same rights and duties as drivers. Your safety, and the well-being of those around you depends on you interpreting the law in a predictable manner. Obey traffic signals and stop signs. Ride with traffic. Use the right hand lane headed in the direction you are going. Pass on the left.
Rule #7: Claim Your Space
Make it clear that you plan to use your portion of the road – whether its 36-inches from the curb, or an entire lane wide. Don't hesitate to claim the entire lane if there is no bike lane or the side of the road is rough, full of debris or missing completely. Bikes are vehicles and have a legal right to be on the road. Claim your space.
Rule #7: Be Predictable
Make your intentions clear to other cyclists and everyone else on public roadways. Ride in a straight, consistent line. Don't swerve unnecessarily.  If you're riding with other cyclists and you do need to suddenly swerve to avoid an obstruction, make it clear with as shout while pointing at the obstruction so they know to avoid it behind you. Signal with your arms for turns. Glance behind you before turning or changing lanes.
Rule #8: Stay Aware
Keep your head up in traffic or congested areas. Anticipate what other cyclists might do, as well as drivers and pedestrians. Watch for turning vehicles and ride outside the open-door zone of parked cars. Read the traffic. Try to anticipate what's likely to happen and scan behind regularly. Watch for signs of cars pulling out or looking for a parking spot. Look out for debris, potholes, and other road hazards. Cross railroad tracks at right angles.
Rule #9: Be Seen
Assume that you are invisible to motorists. Do whatever you can can to enhance your chances of being seen to avoid accidents. Ride where people and cars see you. Wear bright clothing. Use lights in low light conditions with a white light on the front and a red rear light. Make eye contact with other cyclists and pedestrians. The article "Bikes Versus Cars, How to Ride in Traffic" can give more insight into safely riding with traffic.
Rule #10: Be Ready
Keep your bike in good working condition. If you're unsure how to do basic maintenance, practice on your bike at home, or have it serviced by a professional. Check that your tires have enough air; check that your brakes are working, chain flows smoothly, and always check the quick release levers on your wheels. Learn how to fix a flat and carry all the tools and supplies needed to repair your bike and get rolling again. And of course wear a helmet.
Rule #11: Get Involved
It's one thing to prefer riding by yourself and getting out there in your own space. But there also is a whole world out there of cycling that you could be missing out on. A culture of like-minded cyclists just waiting for you. Build friendships, share stories of your experiences. Balance is key.
Rule #12: Challenge Yourself
It might not seem possible at first, but you're capable of doing more miles than you can possibly imagine. Challenge yourself. Gain motivation by enrolling in a long-distance ride event. The motivation gained by a simple mark on the calendar will promote you to ride harder and longer. When the event arrives, you'll be ready to rock and roll. During the ride, take a look at those other cyclists around you. You'll notice the pain, exhilaration, and exuberance that you're feeling is shared equally. It's a feeling you will never forget and constantly seek to be returned to.
The golden rules of road cycling will allow you to be safe while further enjoying your road riding experience. Some you don't need to follow and may not want to but if you do, it can help your riding experience as well as those around you. Follow the golden rules of road cycling and you'll set yourself up for a lifetime of great riding.