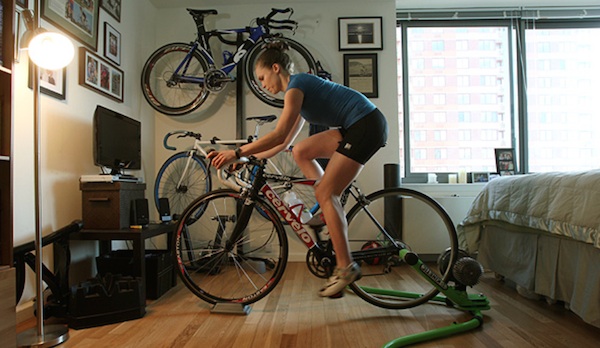 The best part of picking up biking either as a sport or as exercise is that you can bike outdoors and indoors. By buying a nice indoor cycling stand you can get in the training you need while avoiding extreme weather, tending to a child at home, watching TV, or simply enjoying the great indoors. No matter what your reasoning is there are a few things you'll want to keep in mind when you buy an indoor cycling stand.

The Many Types
Indoor cycling stands are not all uniform. Some stands sacrifice increasing resistance for easy setup. Others are ideal for mountain bikes but not racing bikes. The most popular indoor stands are:
Wind trainer
Magnetic trainer
Rim trainer
Fluid trainer
Pivot trainer
Roller trainer
Virtual-reality trainer
The difference between these stands is the resistance mechanism on the stand. For example, a wind stand uses fan blades to produce resistance while a magnetic stand uses a roller-driven magnetic flywheel to generate resistance. It is not the type of resistance mechanism you should worry about so much as the kind of resistance each generates.
Resistance
If you're only biking indoors because you have to, the cycling stand you'll probably like best is one that offers differing resistance. For example, if you increase your cycling speed, the stand will increase the resistance it gives you. This is great for sports training and maintaining a semblance of what you'll experience when you're on your outside route. Stands that offer realistic resistance are:
Wind
Magnetic
Fluid
Virtual reality
Noise And Vibrations
Many people prefer a quieter stand in order to hear music, television, or other people. Also, a really noisy bike stand can be incredibly obnoxious. A stand that vibrates too much will feel unstable and probably make you nervous when you use it. This is a sign of poorly constructed stand. You want to be able go as fast as you can for as long as you can without worrying about breaking something. Good and quiet stands include magnetic, rim, and fluid stands.
Weight, Storage, Easy Setup
Most bike stands weigh anywhere from 15-35 lbs so moving your bike stand around shouldn't be too difficult. Many bike stands usually come with the added feature of being foldable. This makes them easy to store in closets, corners, and garages. However, keep in mind that not all bike stand models are foldable.
Lastly, you'll want an easy setup. Bike stands often have easy-to-use lock mounting gears, skewer clamps, or quick lock cam levers. However, calibrating the resistance mechanism is usually what determines an easy setup or a difficult setup. Some resistance mechanisms need fine tuning each time you use the stand and others just go without any help. The most difficult stands to set up are the virtual-reality and rim stands.
When you go to buy a bike stand keep in mind the type of resistance mechanism that would work best for you. This is the most critical part of the bike stand as it is what determines how realistic your indoor ride is, as well as how easy the stand is to set up and use.