Everyone has their own reasons for cycling, whether it be that feeling of freedom out on the open road, a way of commuting, or a means to be able to eat whatever you want. (Not going to lie, being able to enjoy a beer guilt-free is worth putting in a few extra miles).
No matter what kind of exercise you're doing, most of us want to know the number of calories burned. Something like running is a little easier to calculate because it's solely your body powering movement. Cycling, however, includes wheels, which complicates things when it comes to calories burned climbing versus cruising downhill.
Understanding energy output compared to input is important, especially when it comes to working towards weight loss. There are lots of charts and equations out there that will take your weight and the length of your ride and spit out a number representing the calories you burned on a ride, but just how accurate are they? There are a lot more factors at play here than may be realized at a glance.
What is a calorie?
A calorie is simply a unit of energy, but it can cause a whole lot of confusion and debate. Yes, 500 calories of twinkies may be the same amount as 500 calories of carrots, but are the two really the same thing? The "how much" is equal, but that "what" is radically different.
It's not the number of calories that is important here so much as how they make you feel. Foods that are calorie dense and nutrient light won't make you feel satiated causing you to eat more than your realize.

How important is calorie counting?
Your calorie intake is as important as you make it. The reality is, most of us have no idea how many calories we consume in a day, let alone how many we burn. We notice when we get a little thicker around the middle, but may have misconceptions as to just how many calories are needed before and after a long ride.
It's true that weight loss comes down to the simple matter of calories in versus calories out, but that doesn't mean those calories can be from whatever you want. The type and quality of those calories determines how efficiently they are turned into fuel for your body. What you should eat to prepare for a time trial day versus a long slow distance are actually different. High intensity workouts draw from carbohydrates, which quickly turn to fuel for you muscles, whereas easier, longer rides will burn a higher proportion of fat.
Calorie counting is one way to make you more aware of what you're fuelling your body with, but it's about so much more than a number. Not all calories are created equal, and you want to focus more on what is sustainable rather than depriving yourself. The number of calories you burn may be the same no matter what, but ensuring those calories come from the proper places will make all the difference in your performance.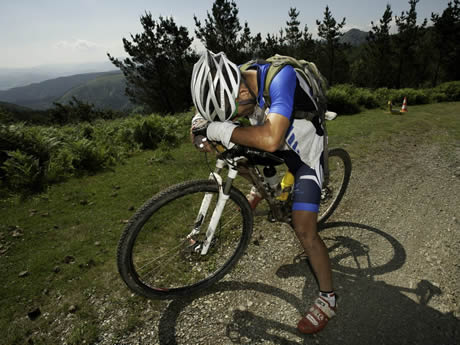 What is calorie burn?
Your calorie burn is determined by three things:
Basal Metabolic Rate (BMR) – Your BMR is how many calories you burn at rest, consisting of the energy it takes to keep all your body's systems operating.
Activity Level – Your activity level is the calories you burn when your body is in motion. This can be broken down by taking the speed and duration of your ride in comparison to your weight.
Thermic Effect of Food – The thermic effect of food is the energy it takes to digest the food you eat.
How to measure calories burned
The most accurate way to measure the amount of calories burned while out on a ride it to use a detailed app (Strava or MapMyRun), or a cycling computer that takes the following into account:
Intensity – Measured by your heart rate or with a power meter, intensity has a huge effect on the number of calories burned. If you ride one mile at your maximum effort in three minutes, you will burn the same amount of calories than if you were to ride the same mile over ten minutes at a more leisurely pace. It's essentially shortening the amount of time to spend the same amount of calories.
Gender – The larger you are, the more calories you burn in your burn day-to-day as well as when exercising. As men are generally larger than women, they burn more calories.
Aerodynamics – This is not just wind direction and speed, but also your position on your bike and your build. If you have more surface area open to the wind, it will take more energy to push through a headwind. Aerodynamics is a hard thing to measure, so it is most often not taken into account.
Weight – Be as accurate as possible with your weight (don't lie to yourself), because the energy it takes for a heavier person to ride the same distance as a lighter person is different.
Duration– Generally speaking, the longer you ride, the more calories you will burn.