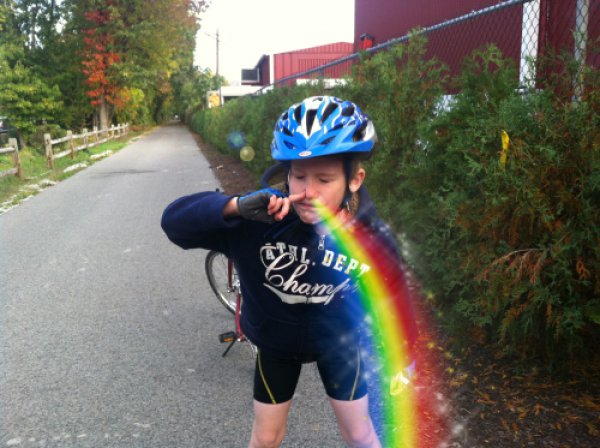 With the colder months bringing cold rides, your nose wants to do nothing but run. You should have told it you were going on a bike ride, not a run. There's only one real solution to a runny and stuffy nose while riding; the snot rocket. It may seem a bit "gross" or un-gentleman or un-women like, but while riding, it's a perfectly acceptable practice.
Knowing how to properly blow a snot rocket as well as when and where it's appropriate are the prerequisites to blowing one. If you don't do it right, you're not allowed; you risk getting snot all over yourself, the people around you, and just look like a fool. Follow these tips and you'll be doing it right and breathing snot free on your next ride.
The Technique of the Snot Rocket
Before you need to know when and where you can do one, you need to make sure you're doing a snot rocket correctly.
First you need a stuffy or runny nose. Go ride in the cold to get one.
Second, you want to plug your one nostril by pressing with one finger on the outside.
Third, you want to take a deeper breath in through your mouth.
Fourth, you exhale forcefully through your non-plugged nostril while moving your head down to that same side as to not just blow it straight down on yourself.
Fifth, repeat on the other side.
Gauging the Wind
The wind can cause problems with the snot rocket particularly if it's hard from the side. If the wind is from your left, you will want to blow both of your snot rockets to your right side off the bike. Do this by using your right hand to plug your right nostril and blow under your right arm. Then to rocket out the right nostril, plug your left nostril with the second knuckle of your index finger and blow over your right shoulder.
The Snot Rocket With People Around
Nothing is worse than getting snot rocketed on. Make sure before you do it that there is no one even close to the projectile range and don't forget to gauge the wind. In a group, you should wait until you're at the back. If you can't get to the back, ride further to the side of the road and get your head as low as possible as to not get the rider immediately behind you. If you stop and are in the company of non-cyclists, say outside the coffee shop, let it wait. Cyclists know what you're doing. Others do not.
An Added Tip to Spitting in the Wind and Not Getting the Rider Behind You
In addition to the snot rocket, no one wants to be spit on either. When you're riding, there is always wind and if you just spit normally to the side you're likely going to get the rider behind you. To avoid this, get your head as low as possible and give a forceful spit. At the same time, take your arm on that side and put it down almost so you're spitting down it. This will make sure it doesn't blow back and hit the person behind you.
When you master the snot rocket and the spitting technique and where it's appropriate to do, you will be pre-approved to do it at your leisure. Just be careful of the rider ahead of you who hasn't been pre-approved. There's always someone.