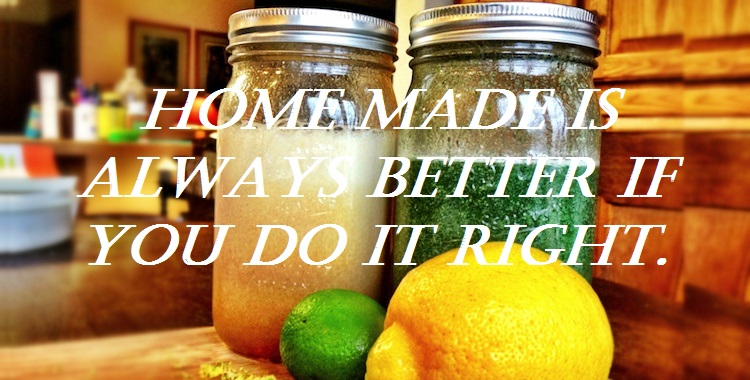 Making your own homemade sports drink can have the same benefits of many homemade recipes. You can tailor flavors to your palate, save a little money, make sure you get the right nutritional balance, and have the reward of doing it yourself. Manufacturers make sports drinks seem very complicated and scientific, but they do not need to be.
Why Drink a Sports Drink
There are critical benefits to a sports drink over water. When you exercise, you sweat out minerals along with water. You will need to replace those minerals so your muscles can fire properly. The minerals, also known as electrolytes, provide the conductive material that allow your nervous system to send electrical impulses. Without those impulses, you do not get peak performance from your nervous system that is in charge of firing your muscles. This can result in muscle cramps.
Additionally, sports drinks can provide carbohydrates for your muscles to keep producing ATP, the fuel that makes muscle cells fire. Without the fuel, you will tire, eventual leading to the dreaded bonk. The carbohydrate needs to be in the right concentration to make it the most effective.
Finally, the water in the sports drink helps maintain your blood volume so your red blood cells can flow freely to the muscles that you are working so hard. Once your blood volume drops, your performance on the bike drops. You will have to keep these three variables in mind when making your homemade sports drink.
Current Sports Drink Trends
The biggest trend in sports drinks now is to keep the carbohydrates at the lowest possible concentration that is beneficial to the muscles to avoid osmotic pressure in the digestive system. If the sports drink has too high of a concentration of carbohydrates, the digestive system has to draw fluid from the blood stream to dilute it so you can properly absorb the carbohydrates for use. In effect, your sports drink that is supposed to hydrate you is actually dehydrating you.
Homemade Sports Drink Recipes
You should be able to double, triple, even quadruple each recipe for a homemade sports drink that fits your needs.
The Basic
Remember how you need minerals, carbohydrates, and water? In a pinch, dilute a quarter teaspoon of table salt and a tablespoon of sugar in a cup of water. It might not be tasty but the ingredients are readily available and will get you over the hump.
The Fermenter
Save that pickle juice! It is already loaded with lots of salt and other minerals. You would probably otherwise dump it down the drain anyway. Take a cup of pickle juice and add two tablespoons of honey for additional carbohydrates. Again, this may be an acquired taste but it will pack a powerful punch.
The Lemon Stand
Take a cup of water and an eighth of a cup of lemon juice and mix it with two tablespoons honey and a quarter teaspoon of salt. Add a drop of mint oil for an extra refreshing flavor. Another option instead of table salt that is a more complex mineral mix without a salty taste is Elete Electrolyte Add-in or another similar mineral concentrate.
The Tea Time
Ahead of time, make some ice tea. Then take a cup of the tea, along with two tablespoons honey or maple syrup along with a quarter teaspoon of salt. Use caffeinated tea for an extra pick me up.
The Heavyweight
Flatten twelve ounces of Coke. Then add twenty-four ounces of water to the coke along with a teaspoon of salt. The caffeine and sugar of the coke will pick you up and the salt will replenish your minerals. This is great for the end of a long ride or race when you need that extra little oomph.
Go Experiment
This is not an exhaustive list of making a homemade sports drink. Feel free to tweak them to your tastes and dietary needs. The possibilities are nearly endless and are probably more rewarding than grabbing a sports drink off of a shelf.