If you are new to the exhilarating cycling world, then welcome! Cycling is an amazing way to stay in shape, meet new people, and explore both your neighbourhood and the world. That being said, getting started with cycling can seem daunting. There are a ton of opinions out there on what bike is best, what gear is best, the best training or nutrition plan, what to wear–we could go on and on. When you're heading out on your first few rides, the idea of putting on head to toe lycra may seem like overkill. If you're looking for a general guide on what to wear cycling, click here. In this article we're going to go into how to choose the best cycling jersey, and go through some of the best options out there.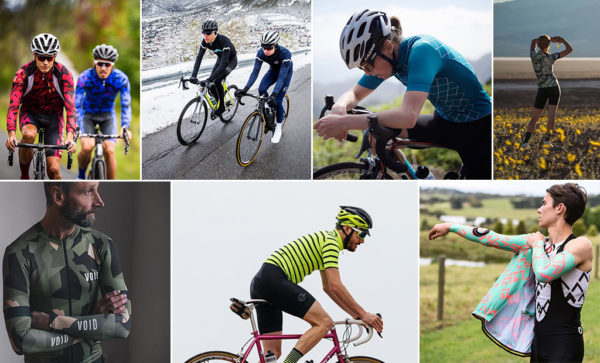 What is a cycling jersey?
Cycling jerseys are made from materials that should work to get moisture away from your body. The general design will be a zipper down the front, with back pockets specifically designed to carry food, tools, and whatever else you'll need out on the road. They have a shorter front panel (as you will be bent over on your bike), with a longer back panel. The bottom hem will have silicon grip tape to keep the jersey in place as you ride. A jersey should be fairly form fitting to keep you as aerodynamic as possible.
Why wear a cycling jersey?
In a word: functionality. Cycling jerseys are designed to be the best tool for the job. Most are made from material that will wick moisture away from your body, keeping you comfortable and cool. The back pockets are perfect for storing snacks, tools, and your cell phone. The snug fit keeps the jersey from flapping around in the wind making you more aerodynamic (and comfortable). Go for one ride in a loose fitting t-shirt and you'll soon realize all the benefits of a cycling jersey.
What Type of Cycling Jersey is Right for Me?
There are two main types of cycling jerseys: race cut and club cut.
Race cuts are tailored for the fittest cyclists, such as the pros. The tightest cut available, they are form fitting so they are aerodynamic. There is generally a significant rear dip in the waistline so that when you are in the riding position the front does not bunch up, and your back is covered.
Club cut jerseys are for the everyday rider. They have a much more relaxed fit, they have more room in the ride position, a small rear dip and are still tailored to fit but are not as tight.
What Material is Best for Cycling Jerseys?
The best type of material for you depends on what kind of rider you are and the weather conditions.
Polyester
Polyester is a man-made recyclable synthetic material and is today's most popular choice of material for cycling jerseys.
Pros
Great at wicking away sweat from the body and keeps your skin dry.
Helps keep you cool on hot days and is even UV resistant.
Extremely durable and can be washed and the color will not fade or wash out.
Mold and mildew cannot survive on it.
Can be bought at lower prices than other materials.
Great for warm or hot weather.
Cons
Plastic feel or artificial feel (can be fixed by washing with fabric softener).
Nylon
Nylon is another synthetic material that is known for its strength and stretchiness.
Pros
One of the strongest man-made fabrics.
Stretches, which can improve aerodynamics as it will fit snuggly.
Good at wicking away sweat.
Holds color well without fading.
Resistant to mildew and rot.
Wind and water resistant.
Good in all weather conditions.
Cons
Mold can form which can be very difficult to wash out.
Absorbs odors.
Nylon can shrink if not handled properly.
Not biodegradable and has an environmental impact.
Merino Wool
Pros
Keeps you warmer than any other material.
Most water resistant material.
Best wicking material available.
UV resistant.
Does not absorb odors.
Great soft feel.
Cons
Very expensive.
Can be too hot in warm or hot weather.
The Best Cycling Jerseys
Northwave Blade Air 3
Price: $54
Designed for hot weather riding, the Northwave Blade Air does a great job at keeping you dry and cool. It's also easy to wash and care for, which is a bonus!
Castelli Entrada 3
Price: $59
The Castelli Entrada jersey takes pro racing technology and applies it to all-round performance and comfort. 100% polyester with Air Mesh fabric around the shoulders and sleeves, there's a little extra stretch to give you a relaxed fit.
Endura FS260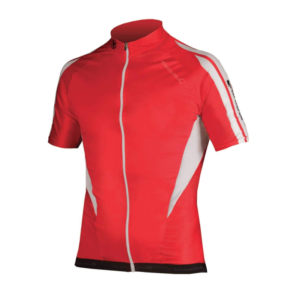 Price: $34
The Endura FS260 Jersey is designed for hot climates and riders looking to stay cool and have maximum ventilation and temperature control. The Coldblack® treatment reflects UV rays and will keep your body cooler for longer.
Santini Lapis
Price: $50
Great for slightly cooler weather, the Santini Lapis Short Sleeve Jersey is made of from lightweight Rewind fabric on the front and back offering excellent breathability. Its slightly relaxed fit more comfort for the casual rider.
Giordana Sosta
Price: $132
Perfect for when the weather turns cool, the Giordana Sosta Wool long sleeve jersey will keep the cold at bay and keep you visible in the lower light. The jersey is made of a knitted, heathered blend called Koln, which incorporates merino wool and nylon. The extended collar will feel great on those chilly mornings, and it includes a zippered pocket for items like keys and ID.