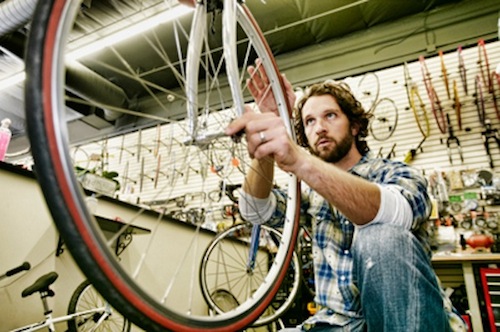 Buying a bike is an important investment in your health, wellbeing, and overall enjoyment. Getting the right one that is perfect for you will help ensure that you get the most out of your purchase and are thoroughly happy with it. Whether you have ridden a little bit before or you are a first time buyer, knowing a little bit about what you're looking for will go a long way and will make the buying process easier.
Following this guide starting from before you even go to your local bike shop to your first ride on your new bike will help you get the most out of your buying and riding experience.
Homework Ahead of Time
Before you go to a bike shop to take a look around, you should do a little bit of homework first so you know what you're looking for.
First, determine what type of riding you are going to do and where your fitness level is at. Are you going to be riding primarily on trails, the road, cinder bike paths? Is your riding just going to be a short commute to work or are you looking to build to 100 mile century's on the road. Knowing what type of riding you are going to be doing will allow you to narrow your focus on bikes specific for your type of riding.
Buy a Road Bike
Buy a road bike if you are looking to stay on the road, stay away from any sort of rough terrain and are looking to go fast.
Buy a Mountain Bike
Buy a mountain bike if you are looking to do a little off road exploring or mountain biking. The suspension system will absorb the shock of the rocks, bumps and roots out on the trail.
Buy a Hybrid
Buy a hybrid or a commuter if you are looking to cruise around at a medium pace, want a relaxed upright position, want to carry items, or plan to be on a mix of pavement and gentle off road riding.
Research and Price Range
Once you have determined what type of bike you want to buy, ask your cyclist friends what specific bike they might recommend. If you don't have cyclist friends (and even if you do) go on the internet and look at the varying options and prices of a number of different brands with the style of bike you are looking for.
Call or go on the websites of your local shops and see what they carry and use that as a starting point.
Each company breaks down their bikes by category and you can get a better look at the kind of bikes you're looking to get. Look at the frame and component specifics with their corresponding prices. This will give you a better idea when you get into the bike shop of how to compare bikes. As you're doing this, it doesn't hurt to write down a few questions to take with you to the local shop.
At the Shop
Before you go into a shop, call or go on their website and see what their focus is. If you're looking for a mountain bike, you want a shop that has a good selection and isn't focused mainly on road bikes and vice versa.
If you're looking for a bike for commuting and around town, make sure they have those too. After you have a bit of a background on what you're looking for, go into your local shop. Also ask around to see which shops are good or better known in the area. When you get there, browse around and get a feel for what they have.
Then talk to a knowledgeable employee and explain what you're looking for and why. They will be able to help guide you toward the bike that is perfect for you and your price range. Ask questions about the bike and ask to see a bike one level up as well as down from what they recommend to get a feel for what you're getting and for what price.
Test Ride
Once you find a bike you like, take it for a test ride. You're not going to get the full feel of what it's like on a normal ride but just a ride around the parking lot will give you a feel for its fit and how it handles. Shift through the gears, test the brakes, get out of the saddle, do some turns.
You should get a good feel for the bike. After riding this one, ask to ride the next level up bike as well as down so you have a good comparison for what you're getting. You may find that the cheaper bike feels just fine for you or that the more expensive one is well worth the upgrade.
If you are reading this guide on how to buy a bike it is likely you are a beginner cyclist, in saying that, you should be focused on one thing above all else, comfort. If you are not comfortable on your bike, no matter the price, you are not going to enjoy it.
Make sure to test ride a minimum of 3 to 5 bikes before making any decisions at all. Discuss with the sales person what you liked about one bike, but perhaps not the other, especially regarding comfort or bike fit. Sometimes a small adjustment of the saddle, or stem length will make all the difference.
Buying a New or Used Bike in Person
Once you've gotten a good feel for the bike and have compared it to others along with its price, ask about what comes with the bike. Does the shop offer free tune ups for the first year that you own it? How about a discount on other products like helmets or a jersey?
Most shops will have some sort of extra incentive to buy from their shop. If they don't, ask for something like it. They may not give a discount on the bike but they may throw in some extra free tune ups if you buy a bike and up to 50% of any accessories you buy.
Once you're comfortable with the bike and everything you're getting with it, make the purchase. You can sweat all the little details but in the end it's how much you like the bike and want to ride it. Also, if you can't afford the full price of the bike up front, a lot of shops will offer financing, so ask ahead of time if that's something they can do.
Buying a New or Used Bike Online
Honestly, if this is your first bike purchase I highly recommend against buying online unless you are able to test ride elsewhere first. You have to be very confident that it is the right bike for you.
The amount of money you save from buying a bike online will be outweighed by the service, knowledge and fit that you would receive from your local bike shop. If you are purchasing a bike for under $1000 then your savings are generally negligible by purchasing online. Save yourself the headache of purchasing additional parts to make your bike fit properly or other such disasters that occur online.
First Ride
After you've bought the bike, you're going to want to take it for a ride straight away. Be sure that you have a good fit on the bike such as the saddle height and the reach to the handle bars. The shop can help you with this as well.
Also make sure you know how to make all the necessary adjustments so if you have to raise or lower the seat mid-ride you can. Make sure you have a multi-tool to do this as well. Once you're riding, don't go to crazy straight away. Any bike is going to take some getting used to so ease into your riding and get comfortable with it. You'll be glad you did once you get everything dialed.
Buying a bike is an exciting time and knowing a few things going into your purchase will make the experience that much better. It will also help to make sure that you are getting the best bike for you. There's nothing worse than making a purchase and realizing it wasn't the one you wanted. Doing a little homework, asking the right questions at the shop, and taking multiple test rides will help ensure that you're getting the best bike for you as well as your price range.