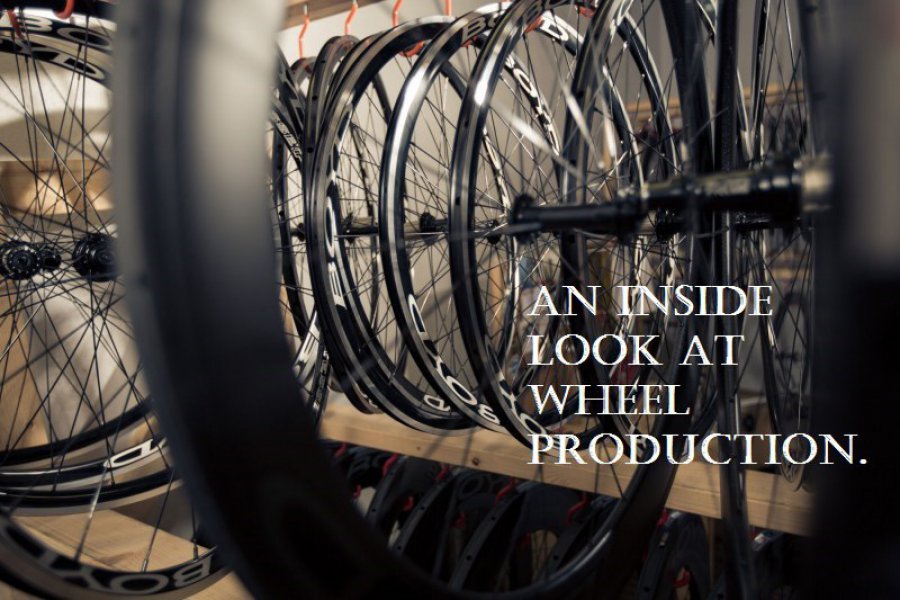 The two wheels spinning under your bicycle frame disperse your weight from the hubs, through the spokes under tension, into the rim, and then into the tire on the surface of the road or trail. Ensuring that the wheels are light, strong, and as efficient as possible is the goal of any good wheel company. The general design of a bicycle wheel hasn't changed much over the past century but how they are designed, made, built, and improved upon has evolved to produce high performance wheels at a manageable cost. This process is intricate as it involves multiple companies and resources the world over but it can be broken down into ten general stages. You may know of one or a few of the stages but don't quite realize what all is behind where bicycle wheels come from.
To gain insight directly with how this process works and what the details are, I sat down with Boyd Johnson, founder and president of Boyd Cycling who make both aluminum and carbon road and mountain bike wheels. They are based in Greenville, South Carolina in a mid-sized office/warehouse where everything State side happens. Being a slightly smaller company, than say SRAM or Shimano, they can keep costs down while being able to make changes and improvements quickly while ensuring good customer service. This is also advantageous to learning the details of how they produce their wheels. Some of these stages will be different from company to company, but the general process will remain the same. This is because the majority of the manufacturing of bicycle components as a whole is performed in Asia while the companies are based in North America and Europe. The first step with making bicycle wheels is designing them.
Stage 1: The Design Phase
The first part of the design phase of making a bicycle wheel starts with years of experience riding a bike. This gives the knowledge and intuition of what is required of a bicycle wheel. Things like how stiff a wheel should be balanced with weight, aerodynamics, and durability requirements for the type of riding it's intended for. Typically, as one of these variables increase, another one decreases so finding that optimal point for the goals of the wheel is key.
Once a general direction of the wheel design is established, it is drawn up in a computer design program such as Solid Works where the virtual wheel can be tested to obtain aerodynamic, weight, and strain data to see if the wheel is a good design or not. Changes can then be made before a prototype is ever produced making it a much cheaper and more efficient process than just building a wheel, seeing if it works, and trying again when it doesn't. Designing and building a wheel virtually drastically cuts down on cost and time from concept to final product allowing a company such as Boyd Cycling to be both cost and performance competitive.
Stage 2: Building and Testing a Prototype
Once a design has been established and found to be effective for the goals of the wheel, a CNC'd (Computerized Numerical Control – basically a cutting drill-bit that is directed by a computer program to get a precisely carved medium) rim is cut out of a block of aluminum. Spoke holes are then drilled to mount the rim to a hub with spokes and a tire is then installed to create a wheel that has the same aerodynamics as what the actual wheel will have. This prototype is then placed in a wind tunnel to get additional aerodynamic data to compare to computer models. They use the A2 Wind Tunnel just up the road outside of Charlotte, North Carolina. Changes are then made if needed and a new aluminum prototype will be made before sending the designs to the factory in Asia for a few test models to be made.
Stage 3: Finding a Manufacturer
Before a fully functioning wheel can be made, a manufacturer who can build the rims at the quality and cost expected by Boyd needs to be found. Finding a company half a world away in Southeast Asia where not only are languages different, the customs are as well. The way the majority of relationships are set up between a foreign company and an Asian factory is through a Trading Agent who is local to that part of the world. They have relationships with factories and know them in detail while knowing and understanding the requirements of their companies such as Boyd Cycling. When the production process is in place, they are also the ones submitting and receiving orders along with performing another layer of Quality Control. The foreign company, in this case Boyd Cycling, is not directly dealing with the production factory.
Taiwan is where a considerable portion of Asian produced cycling products are made. This is no different for Boyd Cycling but after first having their carbon rim production located there, they found a better suited factory in mainland China through their Trading Agent. The factory is located near Guanzhou while their aluminum rim and hub production remain in Taiwan.
One of the biggest things in choosing a manufacturer is that they not only produce a quality product, but can do it consistently. Boyd has seemingly found this as with their high quality manufacturers and multiple layers of quality control, very few wheels that have flaws in them ever even make it to Greenville let alone to the consumer.
Stage 4: Getting a Prototype and Testing It
Once the manufactures are in place and the initial aluminum prototype has been built to what the final product will be, the designs are sent to the factory in Asia where a number of prototype wheelsets are made. These wheelsets first go through testing by the factory in China or Taiwan which includes multiple levels of stress testing such as flexing a rim laterally literally thousands of times to see if it will fail. Once the wheels pass all of their testing, the Trading Agent receives the rims and also checks and tests the them before sending to Boyd Cycling in South Carolina. Once at the headquarters, they inspect and build up the rim into a wheel to ride them and put them through their paces.
One example of a test they do is to test that the rim can properly disperse and handle the heat of aggressive braking. If it can't, the resin (the glue that holds the carbon together) will start to soften and  bend the rim to the point of failure. To test this, they will ride the wheels down a long, steep descent with the brakes engaged the entire time; a stress that is above and beyond what a rider would ever put the wheels through.
Stage 4: The Rim-Build and Hub-Build Process
After putting the rims and wheels through the paces, any changes that need to be made are given back to the manufacturer. Once the rim is fully ready to be built, the factory can then begin producing high numbers of the rims while keeping the same quality and focus on detail as the first few test rims. Aluminum rims are made from a drastically different material than carbon fiber rims and thus have a drastically different way of making them. Hubs also have their own specific design and manufacturing process.
Carbon Rims
To know how carbon rims are made, you first need to know a little on what carbon fiber actually is. Carbon fiber is made by placing carbon molecules under considerable heat and pressure to form strong, long chain carbon to carbon bonds which form a thread like material that is wound on a spool. This is obtained from Toray Industries in the case of Boyd's manufacturer. This spool of carbon "thread" is then woven into a cloth, called carbon ply, that can take on a number of different weave patterns. Two that Boyd uses is uni-directional and 3k-ply. Carbon is strong in the direction of the thread so weaving it into a multi-directional cloth gives it its first layer of strength.
The carbon cloth, or ply, is then cut into the shapes desired and is laid with an epoxy that consists of two parts; a hardener and a resin. There are many different properties that epoxy can take so refining it so it is strong enough yet not brittle while being able to withstand heat is a delicate challenge.
Each layer of carbon is laid by hand in a metal cast in the shape of the rim around a bladder that will form the inside of the rim. The rim will have different types of ply in different areas for performance and strength along with a different number of layers in each section. Once the rim is fully laid with layers of carbon in the metal cast, it is placed in a press to hold the mold in place. At the same time the inner bladder is inflated with air which compresses the carbon layers together. This pressure allows the resin to flow to ensure a close contact of each layer of carbon. Once set, the rim is removed from the press and the bladder is deflated and removed through the valve hole. After the rims are hard and set, the spoke holes are drilled followed by decaling and clear-coating. Each rim also undergoes quality control to ensure that there was no floating of the carbon while it was pressing or that any other discrepancies occurred.
Aluminum Rims
Aluminum rims are much simpler than carbon, thus their lower cost. The aluminum comes in blocks and is pressed through a pre-made die shaped into the cross section of the rim. This results in a long, straight piece of rim which is cut to length and then bent into a perfect circle. The rim is then placed into an automatic, computerized welding machine that welds the seam of the rim together in about half a second. This extremely precise welding process produces a seam that almost can't be seen. After the rim is in a solid hoop, the braking surface is then etched into the rim with a cutting tool. The rims are then painted and clear-coated as needed.
Hubs
Many wheel manufacturers use other company's hubs already on the market. Boyd Cycling however designs and makes their own which allows them to produce not only an exceptionally strong and lightweight hub or rim, but also an entire wheel that has the properties they're looking for. This is achieved with diameters and flange heights that they think are best. Boyd's hubs are CNC'd in Taiwan while the bearings are made by Enduro Bearings who already have a good product that doesn't need modification.
Stage 5: Shipping the Rims and Hubs
Before the rims and hubs are ready to be shipped to the US, they are first shipped to the Trading Agent based in Taiwan. After another round of quality control (more on that below) they are then loaded into a shipping container to be placed on a cargo ship containing anything and everything being shipped from Asia to the US. If the container is flagged for customs, it goes through the Port Newark-Elizabeth Marine Terminal  in New York City otherwise it goes straight to the Port of Charleston in South Carolina. From here, the container is then loaded onto a train where it is transported to Greenville. The container is then delivered by truck directly to Boyd Cycling where it is then unloaded and inventoried.
Stage 6: The Building of the Wheels
In addition to the rims and hubs, you need rim tape, spokes, and nipples to complete the building of a wheel. Boyd Cycling has their own rim tape made in Taiwan while the spokes and nipples come from a company called www.sapim.be in Belgium. Now with all of the necessary components in one place, the office/warehouse/headquarters in Greenville, the actual process of building the wheels can begin. The hubs are first loosely laced to the rim with the spokes and nipples. Then a moderate amount of tension is placed on the spokes while ensuring that the wheel is true and round. After this, the wheel is placed in a custom built wheel stressing machine which simulates stresses on the road and "pings" or "pops" all the spokes which release a little bit of tension under load. If you don't do this, after the first ride on the wheels you will have to re-tighten the spokes and re-true the wheel. (See the video below.) The spokes are then placed under high tension while making sure the rim is still true. The rim tape is then installed and the wheel is placed in inventory.
Stage 7: Inventory and Quality Control – An Ongoing Stage
After the wheels are built and checked over, they are place in inventory until they are ready to be sent out the door. When the order comes in, the wheels go through yet another round of quality control before being boxed and picked up by the shipping carrier.
As briefly stated before; quality control is conducted at every stage of the rim and wheel building process. The first stages occur by the rim manufacturer in both the Taiwan and Chinese factories to ensure quality and consistency. One preventative of skewed quality lies in the agreements set forth between Boyd Cycling and the Asian companies in that they cannot change any part of the manufacturing process. This includes things like ingredients to the epoxy resin that holds the carbon rims together to what specifications the rims are built toward. This ensures that the manufacturer doesn't find a cheaper way of doing something and compromises quality or consistency. Any changes must be approved by Boyd Cycling. Particular to the quality and consistency of the carbon rim manufacturer is that they not only make the rims but they also make the carbon ply. This means they're not buying it from another source so they can ensure the quality of the base material of the rims. Not all companies do this.
After the manufacturer performs their own Quality Control, the Trading Agent then performs theirs as well before shipping to the US to avoid shipping flawed material. When the rims arrive at Boyd Cycling, they undergo another check before being built into wheels. The final check is just before the wheels are boxed and shipped out to customers. The degree of focus on product quality and consistency ensures that the customer never receives a wheel that has a flaw. Very few wheels actually even get pulled out of the line as the focus on quality and consistency from the beginning in the design process helps to eliminate any potential issues.
Stage 9: Constant Improvement and Innovation
The constant push for improving existing products and coming up with new designs and ideas for new products is what allows a company to stay ahead of its competitors. Boyd Cycling  has been doing this since they first started. Their new rim designs both on the road and mountain side now include tubeless capabilities along with being lighter weight. In addition, they have expanded into having disc compatible road wheels along with constantly improving hub design. They have a number of other cool things up their sleeves but you'll just have to wait and see what else they come out with.
Stage 10: The Differences in Wheel Companies and What Sets Boyd Cycling Apart
There are a lot of companies that makes wheels and not only wheels but very good wheels. It can be difficult to tell any wheel apart until you ride them and put them through their paces. You may think a lot of the large wheel manufacturers (Shimano, SRAM who now owns Zipp, Easton, to name a few) are the best because those are the wheels you see the most because of their advertising dollars and how many people ride them. Also, you may think a wheel is good because it is expensive. This is not always the case either. The expensive or large company's wheels aren't necessarily bad but their views are not always because of their design, engineering, and manufacturing expertise. Knowing what goes into the wheels you're looking at riding along with making sure they don't break your wallet as well as knowing what you want out of your wheels will go a long way in being happy with the wheels you ride.
On the other end of the spectrum from the large, well known wheel manufacturers are the small wheel companies who source their entire wheel from China. There is a difference between a wheel that is designed and engineered in North America by a company whose focus is on performance as well as quality and a wheel that is fully designed and produced in China. These are often lower priced wheels that almost seem too cheap for being carbon. They are often decaled up in the buying company's logos. These low costs are achieved through using carbon ply and resins that are cheaper along with processes that can be different such as with aluminum rims. You should be wary of these wheels because their quality cannot be guaranteed from wheel to wheel even by the company that sells them.
Boyd Cycling is a very interesting company that, from what I experienced, was built on, and continues to grow through, passion. The drive to not only create a wheel, but to solve problems around them with new, innovative design and engineering makes them a small company with big ambitions.
Thank you to Boyd Johnson for taking the time to sit down and talk with me about his company and the entire process of producing wheels. Where our products come from is something not often thought about in the cycling industry. There's always an interesting story behind everything and how bicycle wheels are produced is definitely one of them.