So you are looking for the the perfect gifts for cyclists that have everything. Here is a list of gift ideas they may not have.
Cyclists love gadgets, do they need them? Probably not. But adding new gear to your cycling regimen can aid your performance, motivation, safety and comfort, and besides that, gadgets are just cool. Designers, inventors and technology has given cycling some of it's coolest toys. Can cyclists get by without them, probably, but they are sure fun to use.
For those looking for something that goes beyond gloves, helmets, shoes or jackets for cycling enthusiasts, there are also many useful, unique and sometimes unusual gifts for Christmas, Birthdays or just because, that can make cycling more interesting.
Cool Gifts For Cyclists
Magnetic Lights
Stand out and stay safe on your next ride down the block or through the trails with powerful, palm-sized bike lights. LED powered, typically white for the front, and red for the back–shine in three different settings. Choose a steady beam, slow or quick flash. Strong magnets ensure that the lights stay put even on the roughest roads, but remember, magnets only work on selected frames, if you're on carbon they won't work. When you reach your destination, the brilliant little light snaps off and can be popped in your pocket or backpack until the next time you need to hit the road. There are lots of magnetic lights out there, but those from Lucetta run for 40 hours.
Glowing Bikes
If you like riding in the dark, a fixed gear nut, maybe even a bicycle messenger, or you just like green, glowing things, the Zulu is a fixed-gear bike that might be just the thing to use for night riding. The white-frame bike glows neon green after being in the sun for a half-hour during the day. The manufacturer says it will glow in the dark for an hour.
Laser Beams
This is one cool laser beam, actually two laser beams. It's called the Cyclist's Virtual Safety Lane. It's a device that mounts on your seat and emits two red laser "virtual lanes," one on either side of the bicycle, increasing your safety when cycling on dark highways, paths or anywhere else.. The six-foot long lanes are said to be visible from a mile away.
Giant Sock
The Velo Sock fits over a bike to keep sand and other dirt off the floor. The bike sock, which comes in a choice of colors and patterns, is machine washable.
Battery Charger
Transform energy from your next ride into reserve power by downloading your energy into a removable battery pack. Use the fully loaded pack to charge your USB-powered devices anywhere your ride takes you. The little powerhouse pack takes less than two minutes to install on your back wheel and lets you use the momentum you create while biking to fill the removable battery. This weather-proof charger/battery comes to your aid when you're biking to an outdoor destination, such as a campsite or park, and will revive your phone, GPS, camera, or any of your other go-to devices.
Folding Helmet
Not sure why you would need a folding helmet, but they're out there. Utilizing an elastic system, the helmet from Carrera folds up when it's not in use, making it easy to store in your bag while you're shopping, eating or otherwise off your bike. While it does collapse when you're not using it, the brand ensures that top level safety is their priority when the helmet is strapped on your head.
Ass Savers
This one is a no-brainer if you cycle in wet weather, maybe commute or just don't want to show up at work with the tell-tale stripe up your butt. Constructed from recycled materials, the lightweight mudguards fit on your seat rails in minutes to help prevent embarrassing stains from showing up on your backside.
Bike Pizza Cutter
What a cosmopolitan way to slice a pie! Durable stainless steel, double-wheel pizza cutter will take you on a gastronomic tour from crust to crust.
Phone Controlled Lock
Price: $139 – Not available yet… coming soon.
This gift is for all those cyclists who do everything with their phone. The phone technology is infused into the old-school, mechanical bike lock. Built from cut-resistant stainless steel, the BitLock employs a proximity sensor that automatically locks/unlocks your bike when your mobile phone — equipped with the app — is within a 3 feet radius. It also lets you grant access to other users, track calories burned, map your ride, and has GPS.
Barr Mitts
Cold weather riding is doable with gloves, but when your gloves aren't enough, maybe adding bar mitts can do it for you. The neoprene cover slides right over your handlebars acting as a shield against the harsh weather conditions, protecting your fingers from freezing. They might appear bulkish, but they work, to keep direct wind off your hands. For just under $50, they're cheaper than some gloves.
Boom Bottle
The boombottle is a wireless Bluetooth speaker, geared toward listening to music while you ride. It fits in your water bottle cage, with a built in microphone that works as a speaker phone. The rechargeable lithium battery lasts about 10-hours. The speaker feature comes in handy with group rides, or organized cycling events.
Crash Sensor
This gift could literally save your life. The ICEdot Crash Sensor, attaches  to your helmet, and sends alerts to your contacts, with a GPS coordinates, when you're in an accident. A countdown on the sensor app is triggered during the accident. If you're not injured, you can shut it down.
50 Bikes That Changed The World
A gift for the knowledgeable cycling historian – From the Penny-Farthing, the Dandy-Horse and the Velocipede the design of the bicycle has evolved over the decades both in terms of style and technology. From high-performance cycles to practical run-arounds, conceptual bikes to commercial models, here are the 50 most important, pivotal bicylces from around the world.
Balaclava
A gift for the hardcore cycling enthusiast, this balaclava will keep them warm in all weather. The Chinook Multi-Tasker Pro can be worn as balaclava, a balaclava with face mask or as a neck gaiter.
Bike Chain Bottle Opener
Know a cyclist that likes a beer once in a while? I know I do. Get them the gift that keeps on giving, the handy bike chain bottle opener.
Bike Wine Holder
What if your cyclist isn't a beer lover… it is ok, we will forgive them. Grab them a bike wine holder and put a little gift of wine to go with it.
Bike Chain Frame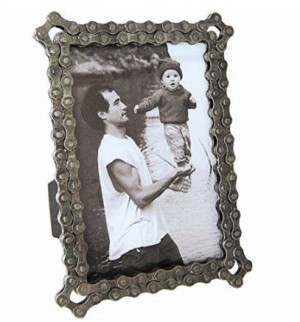 Want to keep some memorable moments, grab this picture frame from recycled bike chain.
Bike Clock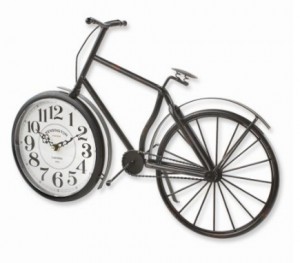 Simplistic yet elegant vintage-style wrought iron bicycle frame is handsomely detailed with seat, springs, pedals, fenders, chain, brake cables, and more.
Bike Earrings
Women love any type of gift, but when you get them jewellery you know you are winning.
Bike Chain Bowl
This unique and gorgeous bowl is made from the most unlikely medium a recycled bike chain. With a great weight and classic shape it is perfect on an entry table for your keys a coffee table in the living room or even your desk at work. A great gift for the cycling enthusiast in your life.
Cycling Socks
Socks and underwear, that is all I generally need for Christmas… or my birthday. Keep it simple, or use them as stocking stuffers.
Road ID
Safety first with this gift in mind. Road ID can literally be a life saver.
Handcrafted Personalized Name Bike
Want a handcrafted bike with your name on it? Perfect for coffee tables, cakes and home decor, there is a choice between mountain bikes or road bikes. Select a maximum of 6 characters for the name and let them make it. You also have the option of adding a heart after the name.
Cycling Calendar
Can't think of a gift to give the cyclist who has everything. Grab them a cycling calendar! Everyone can use another calendar.
Shut Up Legs Cycling Shirt
Who doesn't love Jens Voigt? This "Shut Up Legs" shirt is going to kill as a present. You can't go wrong here.
Best Gifts For Cylists
What have you found to be the best gifts for cyclists? Did any of our ideas make the list?