Mountain biking is one of the greatest ways to get some exercise, spend time outside, and hang out with friends. For road bikers, it can be a great way to switch things up, get out on some new terrain, or stay in shape while the weather may not accommodate hitting the pavement. However, there are some major differences between the two, so here is a guide to mountain biking for beginners.
If you have only ridden a road bike, there will be some key differences you'll notice right off the bat. Mountain bikes have much wider tires with rugged tread for optimal traction and durability on off road terrain. With road biking you want to minimize the contact point between the bike and the road, but on trails you want as much traction as possible. There will also be some sort of suspension system to make riding over rough terrain bearable.
The Bike
First things first, you need a mountain bike. Before deciding what kind you want, you need to think about what type of riding you're going to be doing. Generally speaking, this will break down into two main features: suspension type and wheel diameter. There are three main types of mountain bikes when it comes to suspension: rigid, hardtail, and full suspension. Wheel diameter is a choice between 26, 27.5, and 29ers.
Rigid mountain bikes are a bit more rare, but some people do choose to use them. With no suspension, they are less expensive and easy to maintain, but can make for a pretty rough ride when tackling technical trails.
Hardtail mountain bikes have a suspension fork in the front, but not the rear of the bike. They are typically less expensive because there are less moving parts, and can have the option to lock out the front suspension for more efficient climbing. Many cross country riders will choose a hardtail as they allow for more direct power transfer between the pedal stroke and the rear tire.
Full suspension bikes are a bit more complicated, so there are more variations when it comes down to the specifics. Generally, there is front fork suspension as well as a rear shock to absorb as much of the trail as possible. If you've been riding a hardtail and get on a full suspension for the first time, it will almost feel like you're floating. It makes for a much more forgiving and smooth ride. Most downhill bikes will be full suspension, but more and more cross country bikes also feature full suspension.
The Gear
A Helmet
Mountain biking is a ton of fun, but it can also be really dangerous. So, you should always wear a helmet anytime you hop on your mountain bike. It should fit your head snugly, and be level on your head so it doesn't obscure your vision.
Gloves
Gloves are not a necessity, but they are definitely nice to have when you're starting out. Not only will they protect your hands if you crash, but they can reduce soreness that comes from the vibrations of the bike on rough terrain. For summer riding you can get fingerless gloves so your hands don't overheat, but you'll want a pair with fingers for the coolers months.
A pump, puncture repair kit, and multi-tool
Punctures and their resulting flats are almost inevitable, so you should have the proper equipment and know-how to do a quick fix to at least get you home or to the bike shop. You should always carry a pump, repair kit, and multi-tool with you on your rides, whether in a saddle bag or in a backpack.
Clothing
The most important thing is to be comfortable in what you're wearing. You may think a plain t-shirt would be the easiest thing, but as soon as it gets wet from rain or sweat, it's going to become cold and clammy (not to mention the chaffing). You'll want at least an athletic-specific top designed from a moisture wicking material. You should also always carry a windproof or rain jacket in case the weather takes turn!
As for shorts or pants, its a good idea to invest in a pair of bike shorts with padding. You could use your road cycling shorts, or there are mountain biking specific shorts with a more casual, baggy look.
The Technique
Perhaps the more drastic difference between mountain biking and road biking is in the technique. The key for mountain biking is to stay relaxed and flexible on your bike, as it's going to jump around a lot more than you may be used to. If you are used to just sitting and spinning, this can be a bit of an adjustment.
You want to always be looking ahead on the trail towards what is coming up. Staring at your front wheel may work to get over some roots, but it's also a good way to clip a tree.
Riding Downhill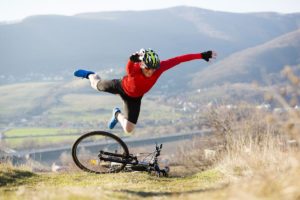 When you hit a downhill, stand up on your pedals (keeping them level) and try get your weight to the back of the bike, pushing your hips backwards behind the seat if possible. Keep your legs and elbows bent with your body low to the bike. This will keep you from flying over the handlebars if you need to stop suddenly.
Climbing
If you see a climb coming up on the trail, you want to ensure you gear down well in advance. You want to try stay seated and spin in an easy gear when possible, as standing and pedaling hard can cause you to spin out and lose traction.
Riding through corners
Cornering can also be a bit of a challenge in the beginning, but they are a ton of fun once you get your technique down! You want to take control of your speed BEFORE you hit the corner so you can roll through it without touching your breaks. As with descending, you may want to stand on your pedals with your knees flexed as you lean into the corner.
Obstacles
Obstacles like rocks and roots are the reason for both the width and tread of mountain bike tires. They are built to roll over these things. So, it is more likely you'll have to conquer the mental aspect of it rather than the physical. When you see an obstacle coming up on the trail, pick your route and exit point then commit to it mentally. Control your speed and try ride through without breaking. Make sure you are not resting all your weight on your handlebars, but instead keep your arms and legs flexed and your butt off the saddle, pulling your front wheel up to pop over the obstacle. Once you've done it a few times, it will become second nature.
Mountain biking for beginners can be a little overwhelming, but the learning curve is well worth it! Start off with some easy, rolling terrain, and you'll be tackling those technical rides in no time.