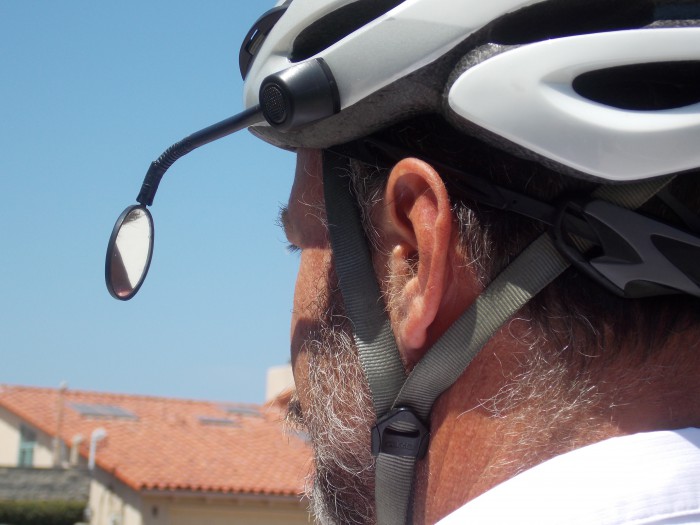 The cycling mirror may not be such an exciting subject. They often bring to mind the image of an older rider rider with a reflective vest, helmet pushed far back on his or her head, with a mirror poking out from one side. But cycling mirrors are a proven safety enhancement that can make cycling safer for everyone.
The Cycling Mirror
Most cars come standard with three rear-view mirrors but bicycles are sold without any at all. You wouldn't dream of driving a car without mirrors. Unfortunately, the use of mirrors has remained firmly in the realm of the cycling nerd. A cycling mirror has the unfortunate reputation of being clumsy, awkward, and often something that just gets in your way. But it shouldn't be that way and here's why.
The Over-The-Shoulder Check
When you glance over your shoulder for a quick traffic check, you tend veer a bit to the side — it's almost unavoidable. It can be dangerous. It's a normal tendency, you steer where you are looking. It can and does lead you into the path of traffic. A mirror helps to prevent you from veering off your line and straying into traffic. A quick glance in a cycling mirror and you can make sure the coast is clear and then make your move. The inexpensive mirror can keep you out of harm's way.
Car Back
Cars From Nowhere
Cars appear from anywhere as if by magic, especially the newer, silent hybrid and electric cars, and they're on the quiet streets in your neighborhood. Dogs and kids jump out, doors open suddenly. A cycling mirror might not keep you from crashing but it might stop you from swerving into traffic with a quick glance when you don't have time to look over your shoulder.
One Scenario
Cyclists tend to monitor traffic coming up from behind by the sound of an engine and wheels on the road. Mirrors enable you to detect traffic much farther away and it gives you the opportunity to stake your place on the road so that an upcoming car can see you. Staking your place on the highway makes cars slow down and not try to squeeze past you, blasting between you and the yellow line. When the driver is faced with either running you down or swerving into the other lane, most drivers wake up a bit, start paying more attention to the situation, and prepare themselves to make a clean pass around you.
Move Over
As you watch the car (in your cycling mirror) approach to make a clean pass (or not), you can move over a bit. The driver wasn't expecting you to do this and it gives you both an extra margin of safety and comfort. Of course, a mirror can also inform you when a pass isn't going so well and then you might actually need to bail off the road completely.
Types of Cycling Mirrors
Three types of cycling mirrors typify what's out there: Handlebar mirrors, helmet mirrors, and glasses mirrors. Here are a few advantages and disadvantages.
Handlebar Mirrors or Bar End Mount
Pros:
Don't give you migraines like glasses or helmet mirrors because they are easier to use for most riders.
Heavier-duty than helmet or glasses mirrors; better longevity.
Can be bigger for more easy viewing.
Cons:
Easily knocked off your bike or out of adjustment.
Can make your bike wider when you need to squeeze through tight places ( only models that extend outward though)
Require you to look further away from the road in front of you than helmet and glasses mirrors do.
What you see behind you depends on which direction your handlebars are pointed. Helmet and glasses mirrors allow you to turn your head and look almost anywhe.e
Under-the-bars models can require you to move your arm to see.
Bar end or handlebar mounted mirrors are available for any bike in different configurations. Serious roadies might prefer streamlined versions.
Helmet Mirrors
Pros:
Allows you to see behind you and at 360 degrees no matter where you turn your head — unlike handlebar mirrors that look only behind the bike.
Lightweight and versatile.
Affordable.
Easy to mount and tucks away in your gear.
Cons:
Attached with an adhesive that wears out and can come loose.
Can bend and crack at the stem.
The mirror sometimes attaches to the stem with a ball-and-socket joint that readily breaks. The joint wears out, and the mirror flops around.
You can't stuff your helmet into a bag or toss it onto a chair or you'll break the mirror off.
Plenty of helmet mirror configurations. Some types minimalistic, some moderate in size.
Glasses (Eyewear) Mirrors
Pros:
Attaches and detaches easily and can be adjusted if you knock it out of whack.
Gives you a good excuse to wear glasses even if you don't normally. This helps keep dust, bugs, and debris out of your eyes,and helps prevent UV damage to your eyes, if you choose to use sunglasses.
Some models also mount to your helmet visor.
Cons:
Can give you migraine headaches from looking at them at an odd angle. Some cyclists find them hard to use.
Flimsy, easy to knock out of position.
Eyeware or glasses mirrors are typically the smallest mirrors out there at about 1 1/8-inch in diameter
Convex Versus Super-Convex
Depending on size and how much you pay, different cycling mirror surfaces may also be an option. A standard convex allows you a medium-wide field of view and better long distance magnification. It's great for roads in areas with less traffic. Super-convex allows for the widest field of vision possible. This type is more appropriate for urban areas with high density traffic. The optics are better, designed to be free of inconsistencies or ripples and they typically have been treated for scratch and shatter resistance.