In many parts of the country, the mercury dips south to some large extremes bringing snow and the potential for miserable riding conditions. With the proper winter cycling clothes however, that misery can be curbed into a ride that may not be as comfortable as summer but more than pleasantly bearable. The key is the right clothing for the right temperatures as well as the ability to dress in layers that can be put on or taken off depending upon conditions.
Temperature
The biggest determiner in what you wear is going to be temperature. Particularly in winter, the temperature can vary a great deal from early morning, throughout the afternoon, and into the evening. The best way to ride in varying temperatures is to have layers such as a vest and wind jacket that you can put on and stuff in your pockets when it warms up.
Precipitation
When it's cold, precipitation is a much bigger factor and needs to be respected. If it's raining, you not only need a rain jacket that keeps you dry but also shoe covers and gloves that don't soak through. If it's snowing however, the moisture won't soak through to you so as long as the roads aren't bad the snow can actually keep you dryer.
The Winter Cycling Clothes to Wear
The clothing you wear will range from lighter long-sleeved jerseys to thermal jackets depending on how cold it is. In general, wear a bit more than you think you need and then take layers off as needed.
Thermal Jacket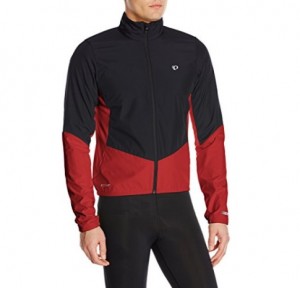 A thermal jacket is going to be the first thing on your winter clothing list. A good thermal jacket is going to be water resistant and be lined with insulating material such as fleece. With a good thermal jacket you can ride in temperatures down into the 30's and 20's with no more than a thin base layer and a vest.
Thermal Cycling Jacket I wear.
Thermal Bibs
Thermal bibs are full length tights with a chamois that are insulated to keep you warm, dry, as well as comfortable. A good pair will also have zippers on the ankles to easily take off and put on. Since chamois are much more personal, getting a new pair is advised as they will also last a long time.
Some great inexpensive Thermal Bibs.
Thermal Shoe Covers
Probably the most difficult part of the body to keep warm is the feet. Thermal shoe covers will not only keep the wind off your toes but also keep them dry. In general, the thicker the better and if one pair isn't warm enough for you, find another larger shoe cover to layer over the top.
Long-sleeved Base Layer
A good base layer is going to keep your core warm while wicking sweat away from your skin. This is particularly important for winter riding because at some point you are going to sweat underneath your thermal jacket, particularly up a climb. If you remain soaking wet you are going to become chilled very quickly.
My favourite long-sleeved base layer for winter riding. (I have 2)
Vest
A vest is an imperative layer that can easily be put on or removed depending upon temperature as well as riding terrain such as up or down a hill. A good vest is going to be wind proof. They make winter vests that are insulated but these are much harder to stuff into a pocket when it gets warm.
Wind/Rain Jacket
In addition to a vest is a thin, lightweight wind/rain jacket. In general, this stays in your back pocket for times when you desperately need it. You may be at a good temperature while riding but as soon as you stop, say for a flat tire or otherwise, you are going to lose heat quickly. Having a long sleeve jacket that you can put on quickly can be a lifesaver. And don't wait until you get cold, put it on right away to preserve the heat you still have. This is also a good piece of clothing to quickly put on before a long descent to keep your warm.
Inexpensive rain jacket to have on hand.
Winter Gloves/Mittens
Second to your feet, your hands are going to be challenging to keep warm. As the temperature drops from the 40's into the 30's and below, gloves are going to have an increasingly difficult time keeping your hands warm. The first alternative is lobster gloves which are a cross between gloves and mittens with three fingers making shifting a bit easier. After these comes mittens which may look a bit odd on the bike but if they're keeping you warm, who cares. Getting a pair that are both wind and waterproof will serve you good. The one issue that these can bring is that they can get pretty warm on climbs. A good way to avoid this is to take them off and stuff them up the front of your thermal jersey and take out a thin pair of gloves from your pocket and put them on for the climb.
Winter Cycling Gloves – The Lobster.
Winter Headwear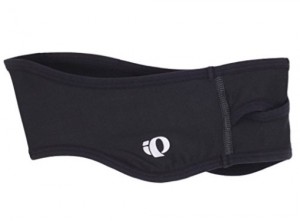 Headwear can be particularly tricky under a helmet as you want something thick and warm while still being small enough to fit under your helmet. Tightknit winter hats that can be pulled down far enough to cover your ears are a good option as long as it's not snowing or raining. When precipitation comes, having a bill on your hat can pay large dividends in keeping the rain and snow out of your eyes. Finding a warm winter hat with a bill can solve this problem as well as wearing a cycling cap with an insulated headband.
Neck Gator/Partial Mask
As the temperature dips to the freezing mark and below particularly, keeping your neck covered as well as face when you need it, will make all the difference on a cold, windy ride. You don't need a super thick one but rather one that can block the wind and keep you warm. One thing to try and avoid is pulling it up over your mouth and nose as when you do your exhalation will get it wet, which will then be cold on your skin as well as have the possibility of freezing.
Winter Socks
The final piece to keeping warm in the winter is sock choice. You want a sock that will keep your feet warm while wicking sweat away from your skin but the challenge comes in keeping it thin enough as to still fit inside your cycling shoe. Wool socks tend to be the best option for this. Get a pair that is a bit thicker but not so much that you can't wiggle your toes. The circulation needs to continue unobstructed as that is what is going to keep your feet warm. One added trick is to get a pair of wool socks that come up to your knee as this is going to provide extra insulation on your shins which have the greater potential of getting wet from any wheel spray off your front wheel.
Nice warm wool cycling socks for winter riding.
Bringing it all Together
Now that you know what all to get to ride in the cold, wearing the right things at the right time is going to be the challenging part. Typically when you leave on a ride you should be slightly chilled for the first ten minutes until you warm up from the effort. You should have on what you plan on wearing for the entire ride. Generally a good way to do it is to wear a long sleeve jersey when the temperature is above 40 degrees with a vest. When the temperature dips below 40 degrees F. wear the thermal jacket as well as a vest when it gets closer to 30. In both situations always keep your wind/rain jacket in your pocket for when you really need it.
With the proper winter cycling clothes, a bit of knowhow, and some trial and error, you'll be able to comfortably ride in practically any weather lengthening your riding season to as long as you want, as long as the roads don't have too much snow that is.