A hybrid bike is just what it sounds like – a cross between a road and a mountain bike. Versatile in nature, the best hybrid bikes can be used over a variety of terrain and are popular with commuters and casual cyclists. The flat handlebars on a hybrid bike offer a more upright position that can minimize the strain that can come from the more aerodynamic position on a road bike.
Not all hybrid bikes are created equal, and there is a lot of variety within the hybrid category. Some are designed more as a road / cruiser hybrid, whereas other are mountain / touring hybrids. So, you need to define what kind of riding you're looking to do, and decide the best hybrid for your needs from there.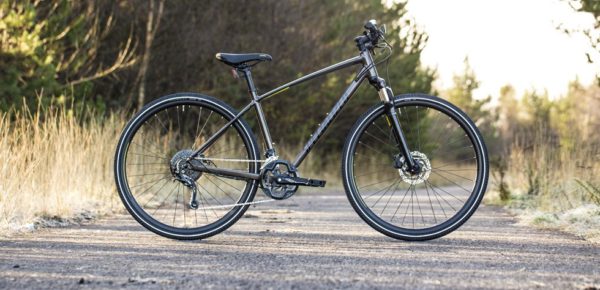 The Benefits of a Hybrid Bike
More terrain – Most hybrids are suited to go off or on road, so this gives you more options for your weekend adventure or daily commute.
Wide tires – A hybrid can have a selection of fairly wide tires, which aids comfort and allows for various levels of off-road riding.
Comfortable fit – A hybrid's horizontal bars provide a more relaxed, upright, and comfortable riding posture.
More gears – Hybrids typically have gears similar to a mountain bike, so riding hills shouldn't be a struggle.
Easy to customize for commuters – Most standard hybrids are fitted for racks and mudguards, making it a popular choice for commuters.
Overall flexibility – Hybrids package quality and a variety of features at an affordable price. For a cyclist who rides slightly rough trails, flat city roads, bike paths, and the occasional sidewalk, the hybrid meets most purposes halfway.
The Best Hybrid Bikes
---
Mountain / Touring Hybrid
Price: $1000
The CrossTrail features an aluminum frame, plenty of tire clearance, a 60mm travel suspension fork, hydraulic disk brakes, and wheels and tires that are on the heavy-duty end of the road spectrum. It's a perfect fit for commuting, light touring, urban and rural riding, and even light trail riding. Although the fork may not be on par with the average mountain bike, it certainly takes the edge off on rough terrain.
Price: $870
Built for pavement one day and dirt the next, the Cannondale Quick series features tough frames and quality components. The CX 3 is the middle of the road option, with a 50mm fork with lockout. Overall it handles well and is durable, but is quite heavy for the commuter or urban adventurer.
Price: $899
Part mountain bike, part road bike, the Haanjo is designed to leave to choice up to you. Although it may not be ready to hit any technical trails, the Gravel Disc alloy fork will have you easily tackling gravel roads and dirt paths. The Haanjo features butted and formed aluminum tubing to bring together a combination of light weight, strength, and durability. The mechanical disc brakes offer some serious stopping power, and the big tires will have you rolling through the rough patches.
Road / Commuter Hybrid
Price: $800
Based off the popular steel frame cyclocross bike, The Volpe, the Bianchi Strada is one of the smoothest hybrids out there. With a classic design and all steel frame, there is tire clearance for a up to a 38c tire (a great option for bad weather riding). The Strada has cantilever brakes which are less powerful than disc brakes, but are much easier to maintain. Like most hybrids, there are mounts for racks and fenders, but there are also mounts for front panniers.
Price: $819
The Trek FX brings together the speed of a road bike with the comfort of a city commuter. Also known as a fitness bike, the FX is lightweight, fast, fun, and agile. The aluminum frame comes rack and fender ready, with the added DuoTrap S, which integrates a Bluetooth sensor into the frame. You can easily log routes and track your progress with a computer or smartphone, with no external sensor.
Price: $449
Uncomplicated comfort and easy on the budget, the Insight series is a perfect entry in the hybrid world. The aluminum frame is lightweight and durable, and will hold up on winding urban streets and rougher roads alike.
Carbon Hybrids
Price: $1599
With a lightweight carbon frame inspired by Felt's line of road racing bikes, the Verza Speed 3 comes complete with Shimano's Metrea group for smooth shifting and modern aesthetics. It is capable as a commuter, a weekend cruiser, or a workhorse for group rides, giving you the freedom to define what kind of rider you want to be.
Price: $1699
This C5 carbon frame provides incredible light weight and efficiency with VRTech built in to reduce road vibration. Its full-carbon fork keeps you on locked on track and includes hidden fender mounts, while the aluminum wheels keep the rolling weight low and easily handle rough roads. You pay the price for the carbon frame, but it could be worth it if you are a serious cyclist looking for something a bit more flexible than your road racing bike.