A good multi-tool can be the difference between a minor roadblock in your ride or a long walk home. If your chain breaks mid-ride and you don't have a multi-tool with you, then you better hope it's not getting dark.
There are a ton of great multi-tools out there, with pretty much every major cycling brand bringing something to the table. So what makes one better than the other? Let's start with some features to look for in a tool, and why you need them.
Features to look for in a multi-tool
Allen keys – At the core of most multi-tools is the allen key. You'll want a wide range included, from 4-8mm sizes.
Screwdrivers – Most bikes still include a mix of flathead and Phillips screws, so these remain essential. Take a look at the adjustment screws on your derailleur to make sure you have the right fit for your bike.
Torx drivers – Torx screws are becoming increasingly popular, and more and more screws on your bike will most likely have a Torx head. The Torx 25 is the standard size that will work for most parts, so make sure there's one included.
Chain splitter – You probably won't be doing an extensive chain repairs or sizing out on a ride, but if your chain breaks you'll need a chain tool to dismantle the old broken link. Always carry a joining link for a quick fix.
Tire levers – Your best friend when you get a flat, tire levers may or may not be included in a multi-tool. Some include them in the body of the tool itself, or as separate pieces. Regardless, they're always a good staple to carry in your bag.
Spoke keys – Spokes can break and bike wheels can buckle due to a crash while out on a ride. Although this can be a tough fix, you can correct it enough to get you home by tightening various spokes to pull the wheel back into shape with spoke keys.
5 of the best biking multi-tools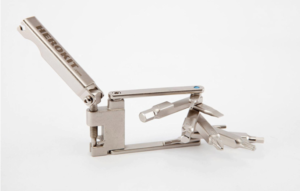 Price: $19
Great for both road and mountain bikes, this multi tool by Hero Kit has 12 features in one lightweight, compact package. Made of stainless steel it's tough, if not a little on the heavy side, but a great product for the price.
Tools: A chain tool, 6 sizes of allen wrenches, 2 spoke wrenches, T25 Torx bit, and both phillips and flathead screwdrivers.
Price: $24
The Crank Brothers M19 has all the features you would expect in a multi tool, minus tire levers. A little on the heavier side, the M19 is a mix of tensile steel tools and stainless steel. The stainless steel case included is impossibly hard to open, but the tool itself seals up tight and the case is unnecessary.
Tools: Seven sizes of Allen wrenches, four spoke wrenches, small and large Phillips and flathead screwdrivers, T-25 Torx driver, universal chain tool, and 8- and 10-millimeter open wrenches.
Price: $39
This multi tool is perfect for those rides where you're not carrying a whole lot of gear. It has a compact design, is lightweight, and the 20 tools is a feat in design alone. However, as it's so compact, it can be tough to get each of the tools out, and the short reach can make getting into certain parts of the bike a challenge.
Tools: 9 sizes of Allen wrenches, T25 Torx wrench, spoke wrenches,  tire lever, steel chain hook, chain tool,  chain pin tool, Phillips and flathead screwdrivers, bottle opener and a spoke holder.
Price: $49
The Topeak Alien II is the big brother to the Mini-20 with a two piece body and a tool count of 26. As the tool separates in half, you can use both simultaneously and with more ease. With the wide range of tools, it's perfect for use at home or on the trail, and remains one of the most popular multi tools out there.
Tools: 14g and 15g spoke wrenches, two integrated tire levers, a T25 Torx wrench, Phillips and flathead screwdrivers, a mini pedal wrench for field repairs, eight sizes of Allen wrenches (2 through 10mm), six box wrenches (two 8, 9, and 10mm sizes), a steel wire chain hook, a stainless-steel knife, a chain tool, and compartments for two chain pins.
Price: $24
Very similar to the Crank Brothers M19 multi-tool, the IB-3 by Park Tool is just 2 grams heavier with the addition of a 1.5mm Allen key and a tire lever. It's compact design gives you everything you need for minor repairs out on the road.
Tools: 7 sizes of Allen wrench, straight blade screwdriver, T-25 Torx, tire lever, two spoke wrenches, and a 10-speed compatible chain tool.