Smartphones are practically ubiquitous in modern society and many newer models come with a range of features that can be extremely handy for those going on long-distance rides in areas that they are not familiar with.
If you don't want a snazzy GPS such as the Garmin Edge 810 unit or prefer not too pay that much but still want to be able to track where you're going and what you're doing, your smartphone may well be the answer. However, it's of not as useful to you tucked away in a pocket, so here we look at some of the best bicycle phone mounts on the market for people who want to keep their phone in their sight at all times.
Price: $35
The iPhone is one of the most popular smartphones around, so it's only natural that the first phone mount on our list caters to it. It is a sleek and simple design that comes with vibration dampening and comes with a padded case that keeps your phone safe and sound. It fits perfectly on the stem of your bike and is waterproof thanks to the case, so you are be able to take it out in wet conditions.
Slim, pocketable design with Hard side for side protection – slides easily into a pocket when you're off the bike.

Weather protection – sonically welded waterproof fabric with rain proof dual zippers – CushionFit padding keeps phone snug in case and protects from vibrations

Attaches securely to handlebars with the included BioLogic AnchorPoint Bar Mount

Front and rear windows allow full access to touchscreen, front and rear cameras

Fits Apple iPhone 5/5s and iPhone 5c (also fits iPhone 4/4s and similar sized phones)
Price: $99
This is one of the sturdiest bicycle phone mounts around and will ensure that your IPhone or Samsung Galaxy stays protected at all times, it even comes with an extra lanyard for additional safety. A little on the expensive side, you get what you pay for. If money is no object, this is the phone mount for you. If you are going for a mountain bike, spend the money and grab this bike phone mount.
Mounts to any bicycle that accepts 1-1/8 inch thread-less steer tubes

Feather-light, weighs 64 grams machined Billet 6061 T-6 aluminum

Includes v3 Series Magnet Kit a RokSack weather guard

Adjustable viewing angle from -20 to +55 degrees

Designed, engineered and made in the USA
Price: $40
This phone bike mount really seems like it is the peoples choice. When polled people overwhelmingly answered Quad Lock. The Quad Lock Universal Bike Mount Kit is designed to allow almost any smart phone to be attached to your bike. Using a strong 3M VHB adhesive, the Universal Adaptor can be adhered to the rear of your phone. If you prefer you can also adhere the adaptor to the rear of a protective case so you can remove the case when you need to mount your phone. The Quad Lock Universal mount gives you the freedom to incorporate the Quad Lock Mounting Systems with almost any device with a flat, smooth surface.
Light weight- Easy to carry with you at all times.
Dual stage lock- Once mounted your smartphone can not be dislodged.
3M adhesive- Strong reliable adhesive that will last as long as your smartphone.
Portrait or Landscape- Use your apps in their native orientation be in portrait or landscape.
Time saver- Attach and detach your smartphone in seconds.
Price: $60
Good universal bicycle phone mounts are often quite hard to come by, making this one an extremely attractive option for those who can't find a mount that is suitable for their specific type of phone. It's also water-resistant and shock proof, meaning you can take it on rougher rides without having to worry.
Tough housing and mounting bracket made of engineering plastics
Touch screen and access to phone functions
Waterproof and submersible
Safety locks for ultimate security
Reinforced mounting bracket with Quick Release to fit bars/stems of 20-45mm in diameter
Price: $40
The Satechi is another universal mount, though it sells on the cheaper side of the spectrum. You still get plenty of bang for your buck though, as the mount is able to protect against most types of weather and will also fit the vast majority of smartphones.
Excellent cycle mount holder; fits handlebars 0.79″ to 1.35″, verified
No tools required for installation; easy to set up
Water-resistant pouch; clicks onto cycle mount quickly
Swiveling base; allow for quick horizontal or vertical operation
Front panel is touch sensitive; allow quick access to functions like maps, GPS, etc
Rubber clamp strip included; prevents handlebar from scratches
Clear directions on the box; no-nonsense installation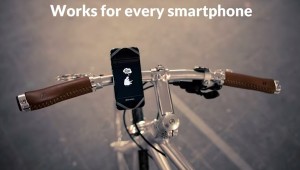 Price: $20
If it's a sleek and simple bicycle phone mount that you are looking for, you could do a lot worse than this option. It's a simple piece of silicon that is able to keep your phone in place, though there is no case to protect the phone from the elements so it can only be used in fair weather conditions. One of the best features of this bike phone mount is that it works for every phone on the market – the silicon can stretch and fit over all shapes and sizes. If you are looking to go out mountain biking though… this bicycle phone mount is not for you, not only is it not waterproof but the vibrations are a little much. It is ideal for the commuter and fair weather road biker.
Price: $36
If your phone is on the larger side then there are few better bicycle phone mounts on the market than this one. Coming complete with a waterproof case and can hold phones with a screen size between 5 and 5.8 inches.
Designed for the Samsung Galaxy S II, S III, S4 and most smartphones

Waterproof for all weather protection

Clip-on quick-release mount (each phone case only comes with 1 mount)

Large 6″ screen

Portrait or landscape mode for GPS and app use
This is a list of the best bike phone mounts on the market today (in our opinion). Are there any bicycle phone mounts that you think we might be missing and need to add?