What is Athletic Greens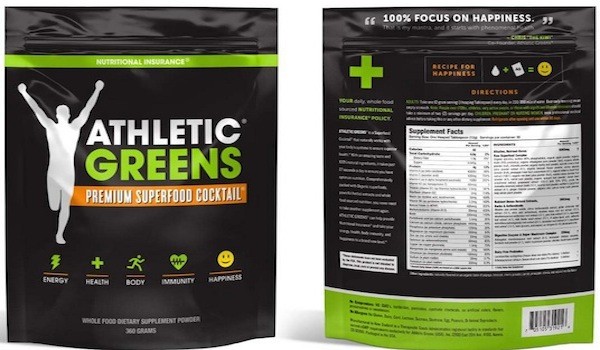 Athletic greens is an all natural whole food premium superfood cocktail. It is designed to:
Naturally increase energy with 100% natural super foods designed to be immediately absorbed into your system for maximum benefit
Ensure superior health through optimum daily absorption of nutrients from more than 70 whole food ingredients
Provide your body with the critical vitamins, minerals, enzymes and co-factors you need to THRIVE
Active culture pre- and pro-biotic compounds help ensure gut health, protect immunity and strengthen your body's natural defences
Athletic Greens Pros
Anti-oxidant Rich
High in essential nutrients
Great Taste
Athletic Greens Cons
Cost
Questionable Business Practices
Athletic Greens Ingredients
Athletic greens groups their ingredients into four categories:
Raw Superfoods – are greens that are nutrient rich and help keep the body pH a little more alkaline. The list includes well known beneficial ingredients such as spirulina, inulin, wheatgrass and more.
Herbs & Antioxidants – Pea protein, citrus bioflavonoids and lots of extracts.
Digestive Enzymes & Super Mushroom Complex
Probiotics
One serving contains at least your daily recommended intake of vitamin C, vitamin E, Vitamin K2 and nearly all of your vitamin A. Athletic Greens is packed with great ingredients.
Athletic Greens Taste
Greens drinks are usually gross however, athletic greens has been designed in such a way that it is a little sweet (from added stevia) and the greens are mild. It actually tastes pretty good, better than any green alternative on the market today.
Athletic Greens Cost
Athletic greens price may be a little bit steep with the regular price being $127 for 30 servings. 30 servings lasts 30 days so the cost is $4.23 per day. It seems unreasonable when compared to alternative greens products that sell for around $2 per serving; however, you may be able to justify it when you compare it to a coffee or two a day.
Athletes are recommended to take in 2 servings per day doubling the cost from $4.23 a day to $8.46.
Questionable Business Practices
Be wary of the autoship! Athletic Greens makes it difficult to cancel an order (you have to phone in), and you have to read the fine print to make sure you are not signed up for an autoship. There are customer complaints that the customer service representatives have been less than understanding. This is actually common practice for similar brands, but it doesn't mean you know about it.
Where to Buy Athletic Greens
You purchase athletic greens directly from the website, links are below:
Athletic Greens Special Offers
Athletic Greens Alternatives
Vitamineral Green – All around great product. Everything you need.
Green Vibrance – Great reviews and one of the long standing original greens product.
Amazing Grass Green Superfood – Great for the basics and inexpensive
Should I Buy Athletic Greens?
Athletic greens is a supplement designed for athletes, and it is a great supplement to boost energy, balance your pH, aid digestion and provide many essential nutrients that you may not be getting elsewhere in your diet. If you are not getting enough fruits and vegetables in your diet or are not taking other supplements then try it out as long as you can swallow the price point.
Do you have an Athletic Greens Review? Share it below!