If you are thinking about buying cycling shoes, you may find yourself in the following circumstances:
Thinking of buying a bike and cycling shoes for exercise
Currently commuting to work
Riding on weekends with friends
Exploring the city & countryside
Seeing cyclists hobble around in cycling shoes is not pretty, so there must be a reason why people insist on wearing them.
What Do Cycling Shoes Do?
The first and most obvious aspect of a cycling shoe is that they clip into the pedals. With a distinctive "click," cycling shoes with clipless pedals will encourage power through all portions of the pedal stroke. Think of a clock and how the second hand moves through all 360 degrees.
Secondly, cycling shoes provide a rigid platform that allow power to be transferred into the drivetrain with greater efficiency than running shoes, sneakers or high heels. When you apply power into the pedal with sneakers, the flexible sole that offers comfort when walking, deforms around the pedal. This means energy lost and sore feet.
Cycling in running shoes is like cutting veggies on a plate with a butter knife. Switch to cycling specific shoes and you'll be cutting veggies with a proper chef's knife on a wood cutting board. The combination of clipless pedal with cycling shoes will have you slicing and dicing your morning commute.
Types of Cycling Shoes
Mountain Bike Shoes
There are two main types of cycling shoes. For someone looking for an all-round cycling shoe, a mountain bike shoe will be a good primary option. Mountain bike shoes have thick tread that allow mountain bikers to navigate tricky terrain. It sounds counter-intuitive at first, but that same tread helps commuters and new cyclists navigate slippery tile floors and the stairs up to the office.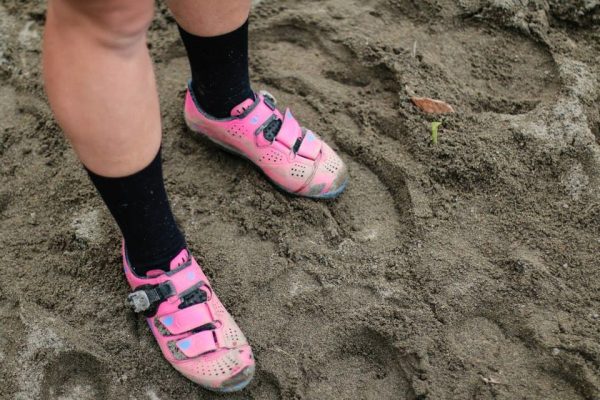 Road Bike Shoes
Road bike shoes are typically lighter and more breathable. But the weight comes at the expense of functionality. Road shoes don't have robust tread like mountain bike shoes and they will often be completely smooth; this is by design. Road cyclists will sometimes ride hundreds of kilometers before un-clipping for a stop light or an esspresso. Hauling around a few extra grams is not efficient (yes roadies are that Type A)! The speed and efficiency comes at the expense of being awkward. The cleats that clip into the pedals protrude, and you're left quacking around the supermarket during a quick grocery shop on the way home from your ride.
So What Type of Cycling Shoe Should You Buy?
Are you doing a quick rip to the farmers market? Mountain bike shoes will likely be a good choice. The tread will be good for navigating mixed surfaces and the added strength of the nylon sole compared to your runners will make the ride home a lot less uncomfortable.
Are you doing a long commute to work and riding on the weekends? Road shoes might be a good option here! Check out these Shimano touring shoes. They can almost pass as your work shoes!
Are you riding a shorter distance but looking for more support? Brands like Chrome manufacture a happy medium between cycling shoes and runners. They add a stiff base plate in the heel and mid-shoe to help with power transfer, but still offer lots of comfort while walking around. These shoes last for years, they are extremely tough.
Taking the Leap: Cycling Shoes
New Bike Day
OK, so you've decided you want to give cycling shoes a go, now what? If you are new to riding and have just bought a brand new road bike, wait a few weeks before stepping into a pair of cycling shoes and clipless pedal. It takes a few weeks to get used to the handling of a new bike, and cycling shoes with clipless pedals can be one too many items for your brain to process. You might end up tumbling over at a stop sign– or maybe in your driveway. Take your new bike out a few times with flat pedals before leaping into clipless pedals.
Commitment
Now it's time to commit to new shoes and clipless pedals in the parking lot. Practice clipping in and out with both feet.
Tip 1: When coming to a full stop, clip out one foot well before you know you need to and coast into the corner. Clipping out before you need to put your foot down sounds obvious, but tipping over happens to all of us!
Tip 2: When stopping, pick a side that you are more comfortable clipping out on, and stick to that side. Then, when you arrive at the stop gently lean you bike in that direction, using your un-clipped foot is your anchor. If you keep your bike verticle, a gust of wind can tip you over onto the side that you are still clipped in on! It's happened before, and it will happen again!
Smash It With Cycling Shoes
Now get out there and start smashing your way commute back from the office, farmer's market or apple orchard!