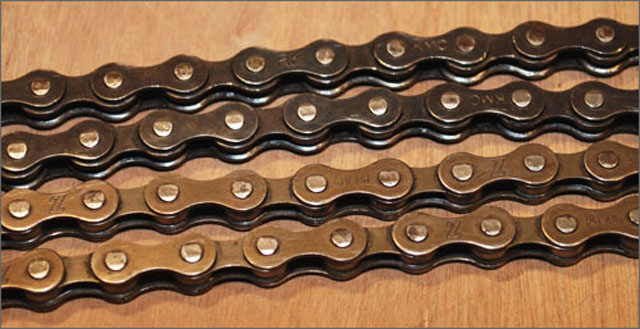 A bicycle chain is simply a roller chain that transfers the power you put into your pedals to the wheel of your bike. The harder you pedal, the faster your bike goes. Of course, that's an oversimplification but that is essentially the role your bike chain plays in how the bike functions.
History Of Bike Chains
Bicycles actually precede bike chains. We've all seen those goofy looking bikes where the front wheel is ridiculously huge. That was because the pedals were attached directly to the wheel. This meant that the larger the wheel was, the faster the top speed of the bike was. Today we have bike gears and what's known as chain-drive.
Obsolete bike chains include a block chain, slip-link chain, and the Simpson lever chain. They were all discarded due to lack of efficiency, power, etc. The modern bike chain is known as the conventional industrial bushing chain. The system consists of a single chain paired with a rear wheel sprocket.
Furthermore, today's bike chains boast an efficiency of 98.6% maximum. Researchers found that while lubrication did not have an impact on efficiency, a tenser chain and larger sprocket had positive impacts.
Length And Width Of Chains
The next thing you need to know about your bike chain is the width and length because they both play a major part in how your bike functions. The length of a bike chain usually comes in a stock size and needs to be fitted by removing links. The chain has to be just the right length in order to shift from one gear to another without jamming or falling off. Fitting a chain to a bike is usually done by an expert.
Likewise, the width of the chain is equally important. The width of a chain usually determines what sort of bike it can function with. A chain that is 3/32" wide is common on bikes with derailleurs which are mountain bikes, racing bikes, and touring bikes. A chain that is ⅛" wide are commonly paired with a single rear sprocket and are seen on track bicycles (BMX).
Wear And Tear
The simplest sign of a worn out chain is something called chain stretching. It can be checked easily with a chain checker tool. Also, the life of your chain is directly related to how much dirt and debris is lodged in the chain links. Keeping the bike chain clean and well lubricated will give your chain a longer lifespan.
Be nice your you chain and keep it clean!