When you're first getting into cycling, sunglasses may not be on the top of your list of must-haves. Most people will throw on their everyday sunglasses and hop on their bike. However, depending on the fit, they may become a pain in a hurry. There are a few things that make cycling sunglasses (or sports performance sunglasses) more up for the task at hand.
What to Look for in Cycling Sunglasses
Fit
Fit with any type of apparel is important, but sunglasses that don't fit properly can slide down your nose, give you a pressure headache, or even create blindspots in your vision. Most brands of cycling sunglasses will have hydrophilic rubber on the nose and arms, which actually gains grip as you sweat. You will also want to try sunglasses on with your helmet to make sure the arms are comfortable. Most will have straight-back temples for optimal helmet compatibility.
Shape and Coverage
When you're on your bike, you want the biggest field of vision possible for your own safety. When you shoulder check, you don't want the edge of your sunglasses getting in the way and blocking your view of traffic. This is why most cycling sunglasses wrap around and include your peripherals.
Lenses
Lighter lenses are better for cycling because they can help enhance the contrast of the road, allowing you to see obstacles or rough pavement before you hit it. Most of these will have UV protection, so they will protect your eyes, but grey lenses can make the ground, shadows and potholes all look the same. Investing in prescription sunglasses can also be great for those who don't want to wear contacts, but you will want to get the wrap around lenses so you will have clear vision in your peripherals.
The Best Cycling Sunglasses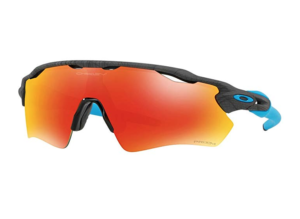 Price: $193
Oakley's original Radar eyewear combined everything they learned from decades of research with the world's best athletes, and came out with the Oakley Radar EV. These have taller lenses, extending vision, and PRIZM Road lenses. A step beyond polarized lenses, this technology enhances contract like never before. With a lightweight design and replaceable nosepiece, you won't even feel like you're wearing them.
Price: $189
Designed with the help of world-class ultrarunners, mountain bikers and road cyclists, the Julbo Aerolite is super lightweight and fast. They have a rimless design with a wide lens surface for broad field of vision and an aerated structure that allows complete air circulation to avoid fog. With a smaller design, these are a great option for women or people with small faces, and the nose pads are adjustable to ensure a snug fit.
Price: $115
The Bolle B-Rock sunglasses have the benefits of the single wrap around lens, but with the added stability of a full frame. The lenses are treated with an oleophobic layer (repelling dirt, grease and water), anti-fog, and anti-reflective technology. The nosepiece adjusts both front to back, and side to side –which is great if you find other models sit too close to your eyes and eyelashes.
Price: $249
Lightweight with extended lenses, the Smith Attack Max are for the more aggressive rider. If you spend a lot of time down on your drops, then these are probably the glasses for you. With a hydroleophobic finish, they keep sweat or rain from fogging up the lenses.
Price: $100
The Spy Helm 2 are a great option for those wanting to buy just one pair of sunglasses that will be good for running, cycling, and hitting the patio for some post-ride beers. This upgraded model has five-barrel hinges making them "nearly indestructible" and include Happy Lens technology. Spy claims that this let's in the good rays, while blocking out the bad ones.