Cycling is an excellent form of exercise for women of all ages, abilities, and fitness levels.  Because of its low-impact on the body, many therapists and trainers recommend cycling for people who are overweight, have nagging injuries, or are older.  Jumping into the world of cycling can be intimidating for women since it is predominantly overrun by men, but there is a wonderful community of women who love bikes, and will be incredibly welcoming to any woman looking to try the sport.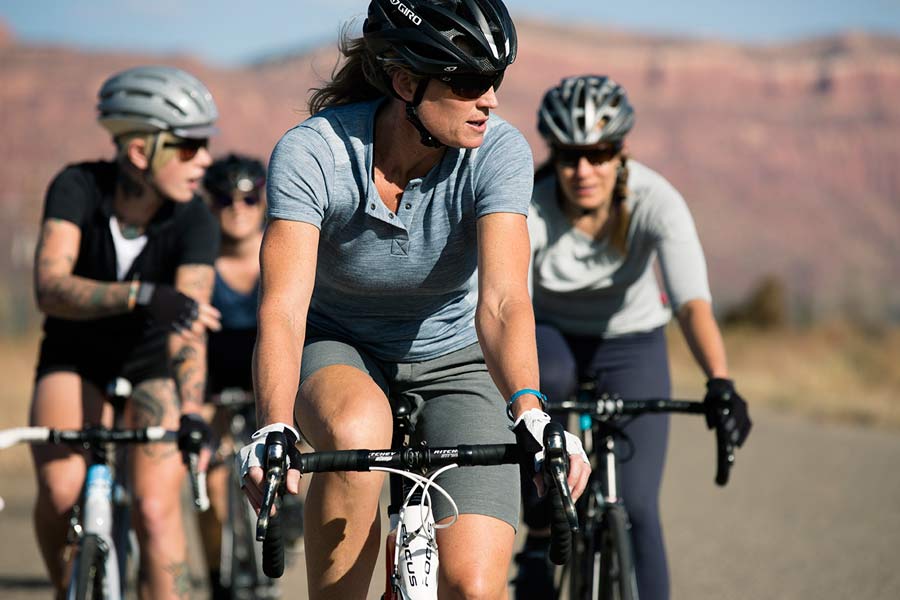 1st – The Bike Purchase
Buying a new bicycle for yourself will be the biggest investment of the sport, and the one that will also determine the type of riding you will do.  The first step is deciding on what your goals are.  Do you wish to commute to work via bike paths?  Do you want to mountain bike?  Do you want to get into road cycling and maybe race or participate in events down the line? The next step is to budget out how much you are willing to spend on a bicycle.  Most bikes of sufficient quality begin at $700 and can range up to over $5,000.  Keep in mind that beyond the bike you will want to get a helmet, proper athletic clothing, gloves and a flat repair kit for fixing flat tires.  And like a car, bikes need annual tune-ups, tire and tube changes, and regular cleaning and lubing.
2nd – Use Local Bike Shops As a Resource
Going into your local bike shop is one of the best places to start when you are looking to get into cycling.  The employees at bike shops are all really passionate about cycling and bikes, and are great sources of knowledge.  They will be able to:
teach you about the various types and models of bicycles
help you decide on the best bike for you
inform you about bike clubs, clinics, and info sessions
provide maps and cycling routes in the area
get you stoked on riding your new bike
3rd – Get Clothing to Get You Rolling
Depending on the type of cycling you will be doing there are lots of options for padded bike shorts, gloves, technical jerseys, and shoes.  If you were to choose one article of clothing to buy for your cycling adventures, the best bang for your buck is getting a good fitting pair of shorts with a built in chamois.  This is to keep your bum comfy and supported so you can ride longer.  Not all shorts are spandex either!  There are a lot of athletic short options that have a removable chamois liner, so they look just like any other athletic short, but with built-in bike specific comfort.  There are also women-specific shorts and jerseys that have different cuts to fit a woman's frame.
4th – Learn the Luxury of Gears
Bicycles come with gears and this is awesome for traversing steep terrain whether it is climbing up ski hills, or climbing up the street, bike gears make life so much better.  Usually there will be 2 or 3 chainrings in the front, and anywhere from 3 to 11 in the back.  The gear shifters are positioned on the grips where your hands go for easy access.  The left-side controls the front chain-ring and the right is for the rear derailleur.  Like a car, you will want to shift into a bigger gear as you go faster because your legs will start to spin too fast as your cadence (rpm) increases.  This means you will want to start shifting on the right side into a smaller cog as well as into the large chainring in the front as you go faster and faster. With this, you will feel added resistance.  Conversely, when you are going slower, say climbing a hill, you will want a smaller gear so you are not bogged down and your legs can move at a steady rhythm.  You will always want to be in the small chain-ring on the front going uphill and one of the largest cogs in the back. Make sure you shift into the gear you want before you're on the hill itself.
5th – Master the Brakes
Brakes are also on the handlebars along with the gear-shifters (on most bikes of today).  The left side controls the front brake, and the right for the rear. (Unless you're in the UK or Australia  and the reverse is true.)  It is best to feather the brakes when you want to slow down instead of slamming them.  It is also best to start with the rear brake for initial decrease in speed and use both when coming to a complete stop to avoid an endo, where you go over the handlebars.
6th – Types of Riding to Consider
Urban Cycling
Commuting by bicycle is a great way to get in a workout, cut down on gas costs and clear your head instead of sitting in gridlock.  Bear in mind that you will want to discover the safest way to and from your destination as a lot of busy roads do not have bike lanes.  Furthermore, it is important to remember that you are just like a car on the road and need to signal, shoulder check, not run stop signs, and not to ride on sidewalks.
Group Riding
Riding in a group with other cyclists can be a great opportunity for teaching you pack-riding skills, showing you bike routes, as well as giving you a new bunch of people to work-out with.  Many clubs cater specifically to women, and have ladies-only group rides.  Such rides provide a low-pressure environment and a way to connect with the other women in the sport.
Joining a cycling group is a great way to share bike-riding with other like-minded individuals.  People who are members of cycling clubs or teams genuinely love cycling and are very supportive of newcomers.  It is important to remember that everyone started cycling at one point in time and most likely has made several mistakes and had embarrassing moments along the way.
Riding a bike is an awesome activity for women to get involved with.  It keeps you in shape, allows you a sense of freedom to explore your surroundings, and it connects you with awesome people.