There is a lot of debate about the necessity of chamois butter in the modern cycling world, particular since the introduction of synthetic chamois in cycling shorts. However, even beyond the antibacterial properties, chamois butter is also useful when it comes to comfort as it can reduce the levels of friction between your sensitive regions and the saddle, cutting down on saddle sores in the process. Here we look at ten of the best on the market today.
Price: $13 – $18
Marketed as the original chamois butter, this is used by a host of professional and endurance cyclists and comes with a good pedigree when it comes to performance. It is non-greasy and contains no artificial fragrances of coloring, plus it is exceptionally easy to wash off when you have finished riding.
Price: $13 – $18
Designed with the women in mind, this chamois butter utilizes a range of naturally occurring materials, such as aloe vera and tea tree oil, to create a product that feels great and performs excellently. Better yet, it is completely gluten-free, making it ideal for people who suffer from an intolerance.
Price: $11 – 15
This chamois butter comes in a stick, making it much easier to apply while still maintaining the effectiveness of other butters on this list. It is specially designed to protect against chafing and other skin irritations that are common in the sport of cycling.
Price: $15 – $23
Comedic naming aside, Gooch Guard does exactly what it says on the tub – it protects your more sensitive regions from the rigors of cycling. Made using natural ingredients, it offers a lubricated barrier that cuts down on friction and soothes the skin at all points of the ride.
Price: $17 – 20
Made using menthol and witch hazel, so you can be sure you'll stay fresh "down there", this chamois butter can be applied both to your skin and your cycling shorts before a ride to ensure that you reduce friction levels and protect yourself from saddle sores.
Price: $13 – $15
As the name implies, this is the perfect chamois butter for people who like to go a little off the beaten track when they ride and is used by both professionals and recreational cyclists alike. It washes off easily and contains no artificial fragrances, making it ideal for people looking for a natural chamois butter.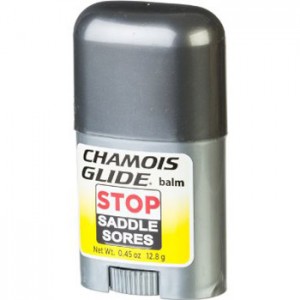 Price: $8
Easy to apply and completely portable, so you can take it out on the road when you are adventure cycling and use it whenever you need, this chamois butter is dry and long-lasting. It also resists against sweat, so you won't need to worry about it washing off during the ride. The least expensive, it still does the trick but it feels as if it goes on a bit dry.
Price $17 – $24
The name makes no bones about the area that this butter aims to protect, but it's one that will resonate quite readily with men. The antibacterial nature of the cream means that you don't need to worry about inflammation or other skin irritants, plus it ensures your skin heals quickly should you suffer from any chaffing incidents.
This chamois cream is enriched with Shea butter and has received rave reviews in a number of different cycling publications. It's as smooth as the name suggests and there are few better for protecting against the hazard of chaffing and other friction-related issues.
Price: $23 – $26
This chamois butter offers everything that a chamois needs, allowing the chamois to maintain its supple texture and antibacterial properties while also protecting the rider's skin at all times. It can be applied directly onto the skin in addition to being rubbed into the chamois itself. This is our my favourite! Assos makes the best quality product on the market.